7.8 Arthur James Jillett



Arthur James Jillett was born 9th April 1858 in Oatlands Tasmania, and was the 8th child of Thomas and Mary Ann Jillett.

Arthur must have been very lucky to survive the scarlet fever epidemic which saw his 3 younger siblings die in 1859, and he would have only been 10 months old.

Arthur became a grazier. Along with his brothers, they run a business known as Jillett Bros.
Extracts from the Jillett diaries (written by Arthur) show how travelled across Eastern Australia.

Diary of 1879 started from Bridgwater to Kerang, Swann Hill on the Murray River, Yanga (lake) mustered weaners at Balranald (12452 of them), Paika Creet, Box Creek, Glen Emu, Tilltill, Hatfield, Clare Station, Kilpera,Hanford, Lake Victoria Station, Tarrawena Station, Tintinallogy, Billilla on the Darling River, Murtee Station, Nelyambo, Curranyalpa, Winbar, Gunderbooka, Yandaroo, Bourke, Port Burke, Warrego River, Fords Bridge, Enngonia, Barringun, Tinenburra, Thurrulgoona.

Then back to Melbourne: Thurrulgoona, Touin Creek, Balalie, Engonia, Bourke, Yandra, Gundabooka, Louth, Dunlop, Compodore, Curranyalpa, Buchamby, Nelyambo, Paddington, Yarrock, Deniliquin, Redbank, Echuca, Kilmore then train for Essenden, Melbourne, Sydney, Brisbane, Maryborough, Rockhampton, Westwood, Gogango, Duaringa, Wallaroo, Dingo Town, Walton, Blackwater, Comet, Minerva Creek to The Graveyard, Springsure, Greendale. 3rd October, 1880, then he went back to Melbourne, with Thomas, Henric, George and Edward (his brothers).

The diary continues in 1886.

1st May, With Tasman, started from Greendale for Isisford - also Henrice to Ravensbourne, Malvern Hills, Thornleigh, Smith Lagoon, Albilbah, Tolundilly Creek, Isis Downs *8376 sheep), Thornleigh Creek, Isisford, Avington, Alice Downs, Blackall, Northampton, Enniskillen, Greendale.

1st January 1887: 13 September 1888, he went from Tambo by coach to Charleville, then a train to Roma, Brisbane to Sydney by steamer "SS Katoomba" and steamer to Melbourne.

15th November, 1888, Mother (Mary Ann Jillett), Fran and Amy and Arthur started from Melbourne to Launceston in ""SS Flinders", caught the mail train to Hobart and were met by father (Thomas) and Uncle Shone.

14th January, 1889, Left Hobart on train for Launceston. Caught the "SS Pateena" at Launceston. Arrived in Melbourne 15th January. Left Melbourne "SS Rodondo" 19th January. Jervis Bay towed by steamer "Kiama" "SS Burweh" towed them to Sydney. Left Sydney on "Burweh" to Brisbane, 28th January, Maryborough to Rockhampton, left by train to Alpha, by buggy to Tambo. Alfred came for me in the buggy 8th February 1888.

26 March 1889: With Tasman and 10624 wethers for Cassilis and Tom. Enniskillen, Northhampton, Blackall Reserve, Home Creek, Patrick Creek, Alice Reserve, Barcaldine Reserve. Wire from Alfred to return to Greendale with the sheep as they had rain. 18th April 1889 Lagoon Creek, Patrick Creek, Blackboy Creek, Home Station Creek, Alice Downs, Skeleton Creek, Blackall Reserve, Northhampton, Greendale with 10264 sheep.

11 June 1889: Greendale: With Tom, started for Cassilis with 5 horses. Northhampton, Alice Downs, Home Creek, Barcaldine, Stainburn Downs, Aramac, Muttaburra, Lerida, Katandra, Mills Creek, Sesbania. Cassilis on 24th June 1889. Edward camped out lambmarking at Cassilis.

31st August 1891: Left Cassilis for Melbourne. Richmond Downs, Hughenden by coach, Townsville by train, Sydney by Leura, train to Melbourne, "SS Flora" to Hobart

19th October 1891: Phoebe (wife) Alfred and I (Arthur) to Richmond with Tom. Coach to Hughenden, Townsville. Left in "Arrawatta" for Brisbane, Sydney and Melbourne 3rd November 1891.


On 10th March 1892 he married Phoebe Broadribb (a cousin on the Shone side). However, 2 months later a Phoebe of the same name marries William Thomas Francis Moore on 21 May 1892. Further research shows that there were two ladies of the same name. The other Phoebe who married William Moore, has a father William and her mother is Elizabeth Curry. Our Phoebe's mother is Emma.

In 1896 Arthur was busy in Melbourne. He was the master of the hunt, leading the hounds when Lord Richard Nevill, the ADC to the Governor was thrown from his horse and injured.


Arthur and Phoebe lived at Montrose House, Rosetta, Tasmania. In the census records Phoebe is shown as living at 6 Auvergne Ave Hobart, the very same place as Mary Ann Jillett (Arthur's mother) was living at her death. Mary Ann Jillett, in her funeral notice, is said to be living at the home of her son.

Now for a mystery, when Arthur died he left £500 to his wife, to his sister-in-law Mrs Frances C Jillett he left £1000, and to a Miss Florence Weldon (an unknown lady to this family) he left £6000.

Research reveals that Florence Weldon also lived in Rosetta Tasmania.

In the 1880's Arthur was a member of the Tambo Racing Club - Gentleman Rider.
In June 1888 He was the lessee of Greendale, Portion 3V Gf15, 4850 acres, and held it until 1921

In 1897 he had a break-in at his home at Pleasant Hill, Normanby Road, Kew.

Phoebe retained her name of Phoebe Jillett, even though she and Arthur must have seperated at some time. Around 1911, Arthur, Phoebe and Florence (Wheldon) all went to Sydney on the Leura.







;
Montrose House" - A distinctive landmark with an evocative history
Set in established grounds, where handsome old trees mingle with colourful rose bushes and a cherished bay tree registered in Kew Gardens. The spacious land occupies 4897m2, making a distinctive statement in this popular northern suburb. The original Montrose House was built in 1813 ; indeed its impressive Long Room;, now used as a formal dining room, has the original shingle ceilings and is the perfect, ambient setting for elegant dinner parties. A Georgian second storey was added in approximately 1840. Erstwhile the property has been used as a farm, a school as well as Colonial Bed & Breakfast accommodation.

The opportunities and possibilities for an enviable lifestyle at this property are endless. You may wish to occupy it as a beautiful mansion, with separate stables known as Martin Cash's stables since, reputedly, Cash stabled his horses here. Indeed, those very stables housed in a separate outbuilding, have been used as a six-bay horse stable, with the original feeding boxes. One of the past owners used this building as a charming book shop. Its potential is enormous though prudently check with Glenorchy City Council about the intended use. It suggests itself being an appealing studio/gallery for a diligent artist, whose family could meanwhile enjoy either utilising the home for bed and breakfast accommodation, or a beautiful family home.

Approached via a fine old verandah, dripping in climbing roses, the home offers an elegant drawing room and separate library 5; in each are beautiful floors of both Huon and Blackwood boards. Original pressed tin ceilings are featured, and are in excellent order.

There is a guest lounge, an efficient kitchen with solid Blackwood cabinetry and granite benchtops, with warm terracotta floor tiles. This adjoins the Long Room as mentioned previously. With as many as six bedrooms and five bathrooms, there is space a-plenty for integrated families, or your family and guests.

The property sits alongside a pretty creek, and is only a short drive to Glenorchy City's bustling amenities, to North Hobart's restaurant strip and only about fifteen minutes; drive to Hobart's CBD. A very unique offering ; just waiting for you to put your stamp on it!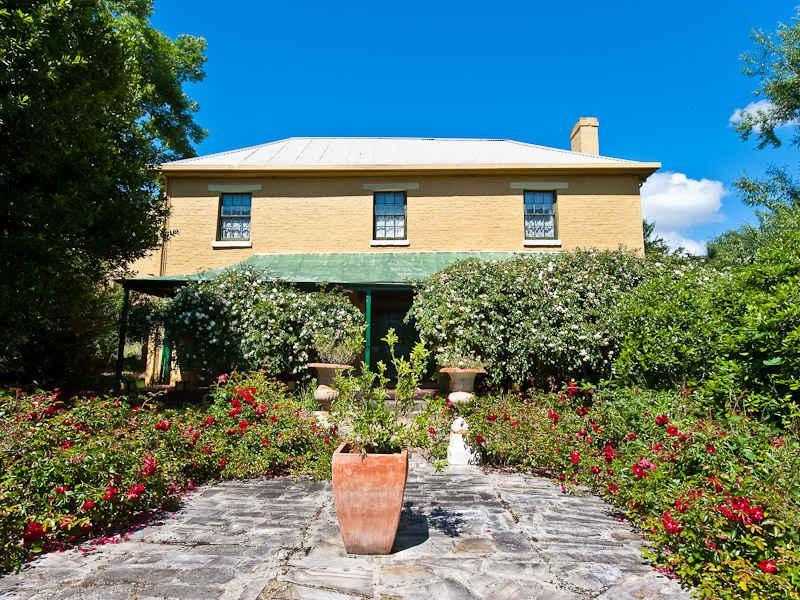 Could this have been Arthur and Phoebe's House? This is Montrose House! How beautiful!
Arthur was an avid horseman, and competed in many riding events at shows. In 1911 he had a severe accident at a show and was unconscious, but he recovered. Perhaps Florence was his nurse? In 1913 he offered for sale at Rosetta, the property known as Undine set on 27.5 acres along the Derwent River. It was described as a high class property with many outbuildings, apple sheds, and paddocks.

Research reveals that there is a B&B operating in the same area today, known as Undine B&B.

In 1919 Arthur was the secretary of the Oatlands Hack and Trotting Club. His involvement with horses was something he shared with all his family.

Arthur James Jillett died in 1926 in Randwick New South Wales. His estate was valued at £17322

Phoebe died 29th September 1951, and is buried at Cornelian Bay. She left her estate to Eric Charles Smith and his wife Myrtle May Smith, who were living at her house at 6 Auvergne Avenue, Hobart, now the home of an architect firm. Eric and Myrtle lived at the house for at least 5 years both prior to and after, Phoebe's death.

It appears Mrs Smith had no family and she left her estate to her sister in law, Dorothy Gwendoline Grant. She died in 1980.
Property for Sale, from the Internet Listing
"Montrose House" 76 Montrose Road, Rosetta Hobart