Edward and Elizabeth's Children

Her Daughter Elizabeth Wood

Elizabeth's daughter Elizabeth was also known as Elizabeth Westlake. Elizabeth Jnr married James Pillinger on 15th January 1806 on Norfolk Island. They had two children while on Norfolk, and many more when they returned to Tasmania.

William was born 1804 prior to the marriage and was known as William Wood. (No further records can be found but he did return to VDL. James Pillinger was born in 1806.

Again the plaque in St David's is incorrect, because neither children were named, in fact they never had a child called John and Elizabeth was born in 1812! Long after the ship docked.



Both the Westlake and Pillinger families were relocated to Van Diemens Land aboard the "City of Edinburgh" in 1808.

One of the Pillinger grandchildren became a member of Parliament in Tasmania, and his portrait hangs in the Oatlands Town Hall. He was also Mayor of Oatlands.
Samuel born 1792 Norfolk Island d 1871 Geelong Hospital Victoria *
Mary born 1794, died 1879
Ann born 1796 ,
Susannah 1799 m Thomas Shone d New Norfolk 1882
Richard 1800, d 1881 Bourke NSW
George 1802 d 1814 Hobart
Charles 1804 d 1877 Paupers grave Corillian Cemetery Hobart
Samuel:
Th
e list of deaths in the Geelong hospital for the present month contains the name (says the Advertiser 1871) of Samuel Westlake, a man who was born in Norfolk Island, and was eighty years of age at the time of his death. He stated that he was the first white person born in Australia. He died of pneumonia.

Mary She married twice once to John Broadhurst Boothman and secondly to Samuel Cash.
She had 7 children
Ann It is presumed that Ann married Joseph Morris (sea captain) Sydney 1812.
Joseph was the captain of the ss Hunter and the ss Atlantic and often had dealings in Hobart. At the time of the marriage in 1812, there were no other Westlake families in the colony. From the marriage in 1812, the is nothing to be found about Ann
Susannah She had a daughter Amelia when she was 16, father unknown.
Then she married Thomas Shone, lived at Stanton New Norfolk, and had two children.
Mary Ann and Thomas Shone Jnr
Mary Ann Shone married Thomas Jillett, son of Robert and Elizabeth Jillett (Bradshaw) thus linking the two Norfolk Island families.


Richard Died in 1881 in Bourke, NSW, As late as 1837 he was still farming in Clarance Plains.

George Died aged 12 and is buried in Hobart

Charles Bur
ied 4th June 1877 was a patient at Brickfields Department, and is buried at Cornelian Bay Cemetery in the paupers section.

Strength of the establishment on the 31st 'December 1854. Secondly, as regards the Cascade Factory, Female House of Correction, and Brickfields Establishments. State of Prison Buildings. S3.
Looks like our Charles was either a prisoner or in a mental asylum as Brickfields seems to be what that was used for.

Boothman, John Broadhurst (1779? - 1829)

Birth:
1779?
Death:
11 November 1829, Hobart Town, Van Diemen s Land (Tasmania), Australia
Cultural Heritage:

* English

Occupation:

* convict
* convict administrator
* emancipist
* farmer
* police officer
* public servant

* Life Summary
* Resources
* Abbreviations

BOOTHMAN, JOHN BROADHURST (1779?-1829), convict and public servant, had humble origins in Lancashire, England. He worked as a servant to Thomas and Joseph Ridgeway, bleachers of Horwich, near Bolton. On 20 January 1802, at the age of 22, he was charged in the Lancashire Quarter Sessions at Manchester with embezzling £20 from his employers, pleaded guilty and was sentenced to transportation for seven years. He came to Australia with William Collins expedition in 1803 and served as a subordinate of the night watch at the original Port Phillip settlement. Moving with Collins to the Derwent in 1804, he continued to perform minor administrative duties, notably as commissariat clerk, until his emancipation in 1809.

Thereafter, apart from a short break in the summer of 1817-18, he served the government of Van Diemen s Land for more than a decade, first as store-keeper at Hobart Town, then as clerk in the office of the governor s secretary and for six months in 1816-17 as acting secretary, then as one of the superintendents of convicts at Hobart, and finally in 1818 as principal superintendent at Port Dalrymple. In this capacity he moved first to Launceston, then in November to George Town. Here, in 1819 he had charge of the building of Government House and was also made chief district constable. Boothman was unable to avoid altogether that process of charge and counter-charge so common among early officialdom: thus, as friend and sometime assistant to Leonard Fosbrook he was implicated to some extent in the latter s trial in Sydney in 1814 for fraud and peculation. However, he remained relatively unscathed until April 1820, when a dispute with Lieutenant Vandermeulen, inspector of public works at George Town, led to his suspension and subsequent dismissal for insubordination, though in confirming this action Lachlan Macquarie noted that Vandermeulen was not entirely free from blame. Boothman later held two small land grants in the north of the island, but when he died at Hobart on 11 November 1829, he left his family wholly destitute.

In 1810 he had married Mary Westlake, daughter of a convict, who had come with his family to Hobart from Norfolk Island two years earlier. In 1844 Boothman s third daughter, Mary Ann, married Edward Terry of Askrigg, Macquarie Plains, a property which has remained in the hands of descendants to the present day. One son, John Broadhurst junior, was the original lessee of Hope Island in Port Esperance (a rabbit-breeding venture); other sons and several grandsons entered the public service.
Select Bibliography

Historical Records of Australia, series 1, vols 7-9, series 3, vols 1-3; correspondence file under Boothman (Archives Office of Tasmania). More on the resources

Author: R. L. Wettenhall

Print Publication Details: R. L. Wettenhall, Boothman, John Broadhurst (1779? - 1829) , Australian Dictionary of Biography, Volume 1, Melbourne University Press, 1966, p. 126.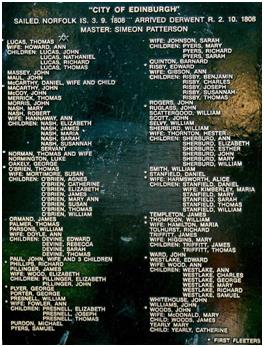 The names on the memorial at St David's Park are incorrect. Elizabeth and James Pillinger's children were William and James.

Susannah is missing from the Westlake family.
Alfred Thomas Pillinger (1839 - 1899), by J. W. Beattie, courtesy of Allport Library and Museum of Fine Arts, State Library of Tasmania. AUTAS001125880658. .
Image Details
PILLINGER, ALFRED THOMAS (1839-1899), landowner and politician, was born at Antill Ponds, near Oatlands, Van Diemen s Land, son of James Pillinger and his wife Sophia, née Peters. His father was born on Norfolk Island in 1806; the family went to Van Diemen s Land in 1808; he worked for William Kimberley who had taken up much land and ran a large herd of wild cattle in the unsettled areas. By 1830 James was
overseer at Salt Pan Plains for Kimberley whose recommendation of Pillinger as sober, honest and
industrious won him a free grant of 320 acres (130 ha) near Oatlands.
Pillinger then had 400 sheep, 30 cattle, 4 working bullocks and a mare.
In 1831 he bought 500 adjoining acres (203 ha) and with help from Thomas Anstey was appointed
poundkeeper at Kitty s Rivulet. In 1836 James was appointed division constable at Oatlands. He was
married at St David s, Hobart Town, on 7 September.

Alfred was educated at private schools and Horton College in Ross and became enthusiastic for
astronomy. He then worked for his father and soon won repute as an expert in farming and
husbandry. With headquarters at his father s property, Millbrook, near Tunbridge, he acquired
various other holdings totalling 15,000 acres (6075 ha) and stocked them with cattle and merino
sheep. Worried by the drain of young Tasmanians to the mainland, he told the select committee on
immigration in 1865 that the island had at least a million unsettled acres (405,000 ha) fit for
cultivation where newcomers could start with only £50 if they clubbed with neighbours for acquiring
bullocks and equipment. To set an example, he continued to lease crown lands and redeem them
from their wild state by fencing, building and road-making at his own cost. However, the 1872 Waste
Lands Act limited these activities despite his petition to parliament.

Pillinger became a coroner and a territorial magistrate. Attracted by public affairs, he was elected a councilor of the Oatlands Municipality and became its warden in 1874. He resigned in 1876 when elected for Oatlands to the House of Assembly on 17 July. He was minister for land and works under P. O. Fysh from October 1888 to August 1892 and under Sir Edward Braddon from April 1894 to May 1899. He travelled widely in Tasmania and acquired exceptional understanding of parliamentary practices and local government. Although no orator, he won the respect of all parties for his shrewd judgment, sincerity and good temper. He was generous in creating jobs for those out of work and supporting those in distress, especially old people. In his own electorate he advocated conservation at Lake Crescent to provide irrigation for the lowlands and prevent flooding.
Pillinger died in Hobart on 6 May 1899 and was survived by his wife Georgina, née Nichols, whom he had married on 15 April 1886 at Castra near Ulverstone, and by one son and three daughters. His public funeral was the largest until then in Hobart. Flags were flown at half-mast in the city and the crowded service in St David s Cathedral was conducted by an Anglican clergyman. At the graveside in Cornelian Bay cemetery a Wesleyan minister gave an address since Pillinger was reared and died as a Methodist.

Select Bibliography
Cyclopedia of Tasmania, vol 1 (Hob, 1900); A. McKay (ed), Journals of the Land Commissioners for Van Diemen s Land, 1826-28 (Hob, 1962); Votes and Proceedings (House of Assembly, Tasmania), 1865 (61), 1878 (70, 94), 1888-89 (124); Examiner (Launceston), 8 May 1899; Mercury (Hobart), 8 May 1899. More on the resources
Print Publication Details: Pillinger, Alfred Thomas (1839 - 1899) , Australian Dictionary of Biography, Volume 5, Melbourne University Press, 1974, pp 445-446.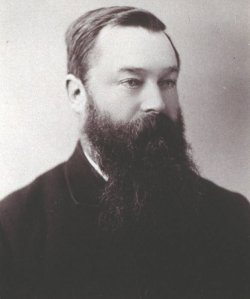 The Bibliography of James Pillinger's son Alfred, gives an insight into early farming in Tasmania