7.10 Edward Frank Jillett and his family



Edward was born 6 May 1862 at Springfield in Van Diemens Land. He died on 28th September 1947 at his home 107 Adelaide Street Clayfield and was cremated. Edwards parents were Thomas and Mary Ann Jillett.

He married Flora Kathleen Cameron Christison at the Church of St Thomas at Hughenden on 28th October 1905. He with other brothers came from Tasmania via Victoria and New South Wales to Queensland in August and September 1879. Edward married when he was 43 years old.

He and Flora had 8 children.

Joyce Kathleen Jillett b 1906

Thomas Edward Jillett b 1908 d 1908

Clare Shone Jillett b 1909

Thomas Frank Jillett b 1913

Jack Christison Jillett b 1914 d 1958

Arthur Bruce Jillett (Ned) b 1917 d 1982

Robert Edward Jillett b 1919 d 1945

Betty Flora Jillett b 1926

They lived at Cassilis Station, and then at Tambo, before moving to Clayfield in Brisbane in the 1940's

Clare Shone Jillett


Clare was born in 1909, and she married James Lawrence King. She lived at 35 Lukin Street Clayfield in the late 1940's.


Joyce Kathleen Jillett was born in 1906. She married Roderick Mc Leod and lived at Woodford in the 1940's.


Betty Flora Jillett was born 1926. She married Robert Scott Crichton, in 1946 and lived in Charleville.

They had the following children Susan Clare Chrichton
Peter Scott Crichton
Diane Mary Crichton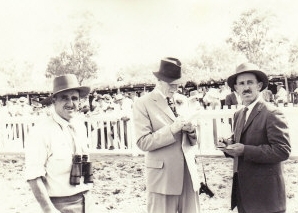 Thomas (back right) Jack (front right) Clare and Betty front left at Blackall Tennis 1930's
Ned and Tom with unknown man in the centre
Jack Christison Jillett married Dulcie Lilian Corbett at Coolabri 20th January 1946.

They had three children

Patricia Kathleen Jillett
Robert Christison Jillett
Garry William Jillett
Edward married when he was 43 years old. He ordered Joyce and Clare out of the house And never spoke to the again. He ordered Bob out when he was 16.

Ned also, and it is reported that Ned had more dinner times than dinners on the Diamintina. The first question Ned asked when he returned from Japan where he was a Prisoner of War for 3 ½ years, was "Is dad dead yet"? A hard man, of hard times.
The Greendale house burnt down in 1920/21, it was a slab house with calico lining and portholes where the women watched for blacks coming down from Gartmore.

The new house was built (insurance funded) in 1922. Tom always said that Bob burnt the house down but this hasn't been prooven.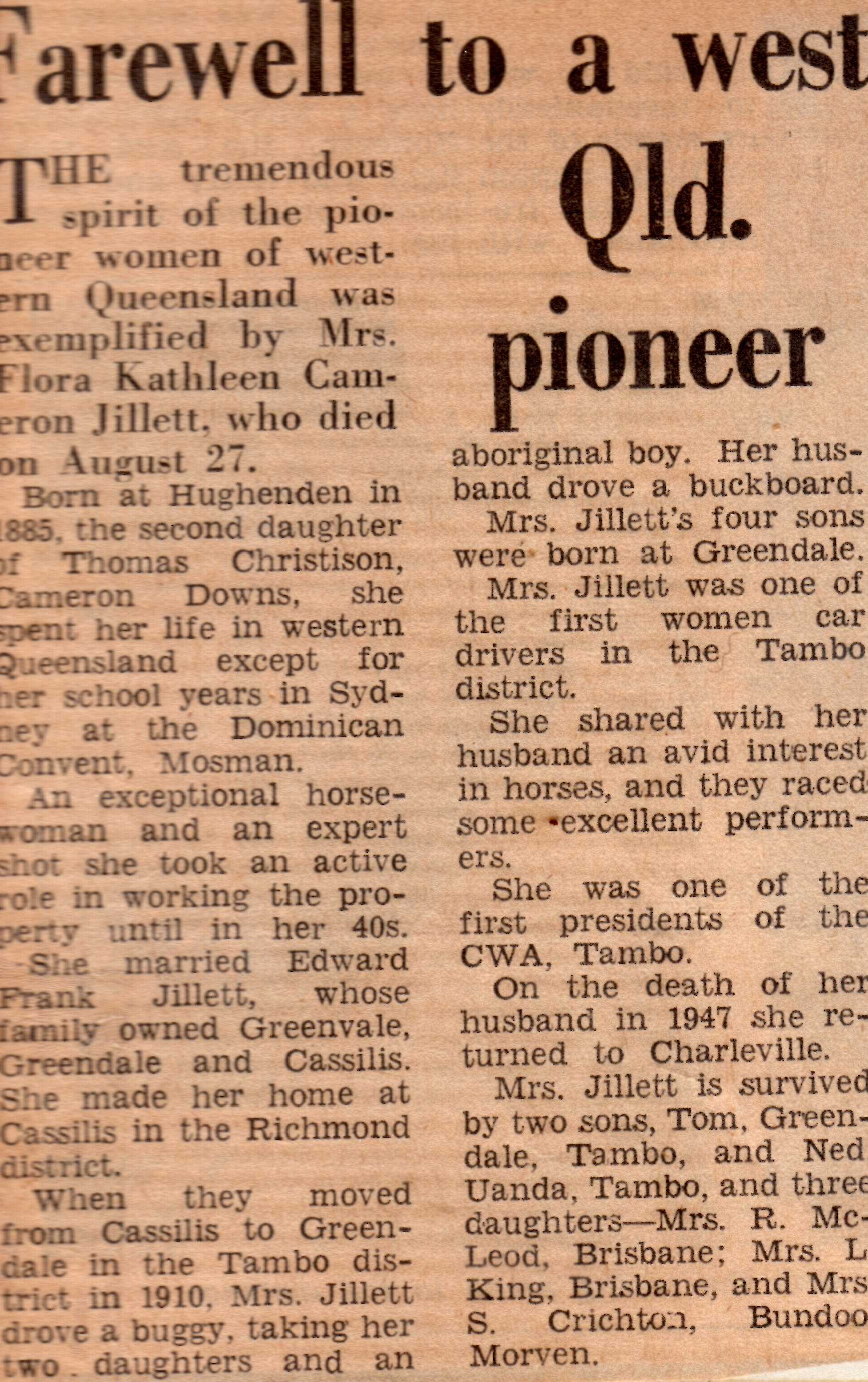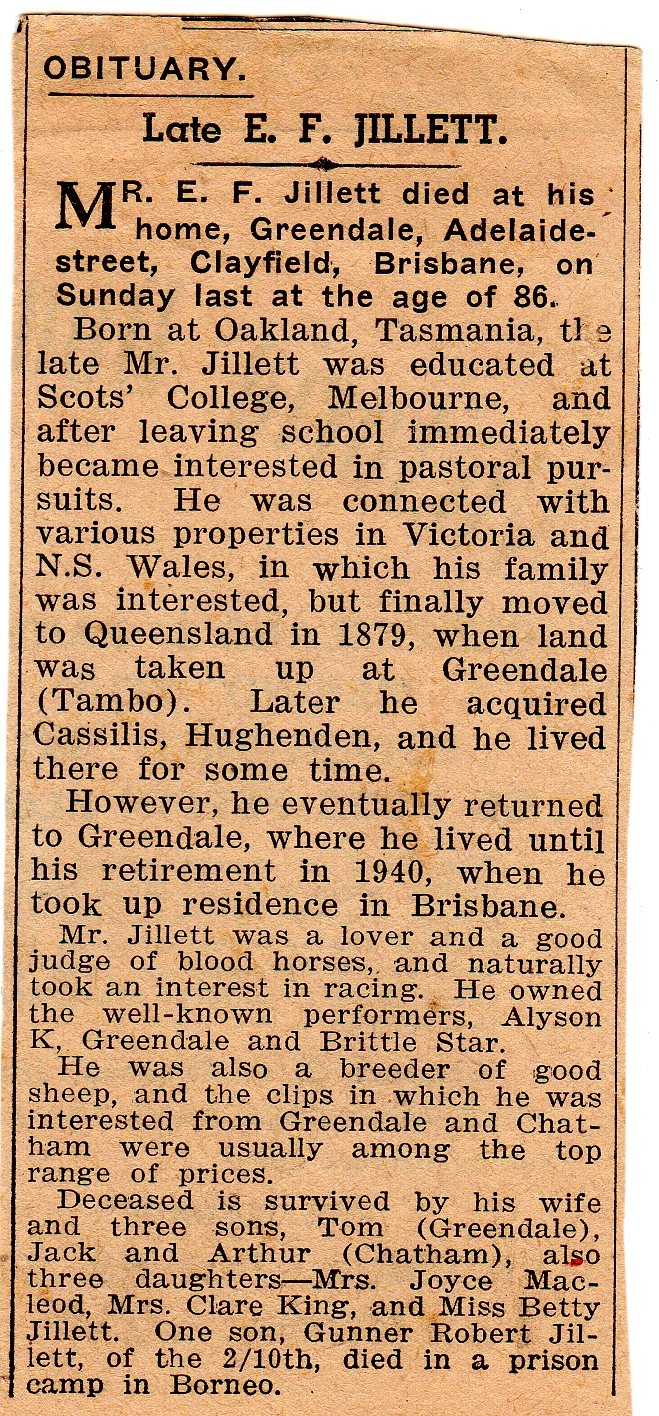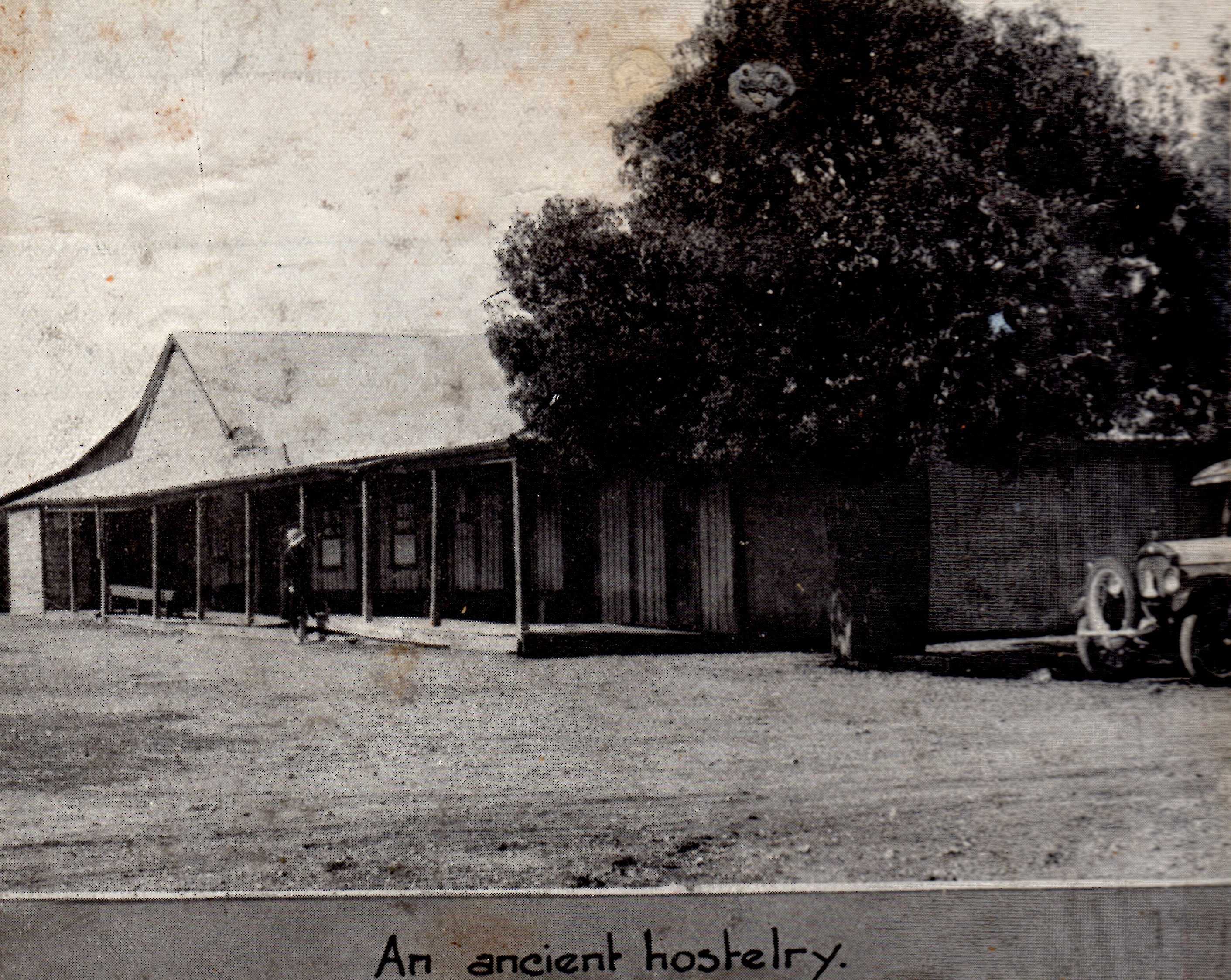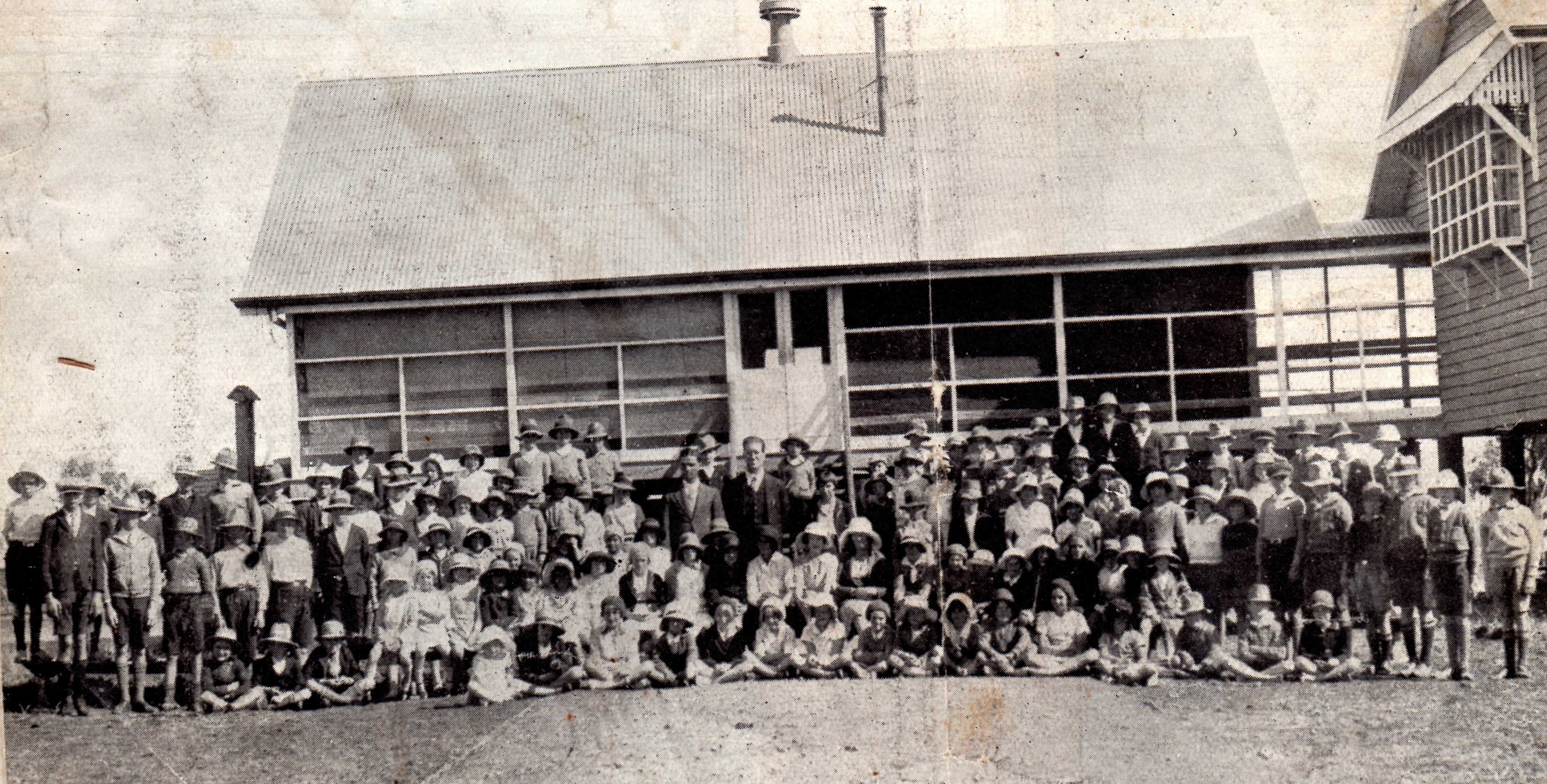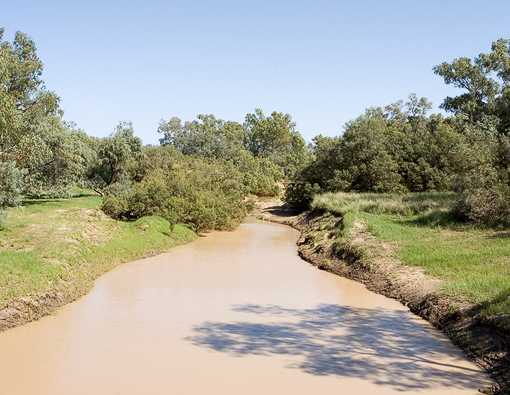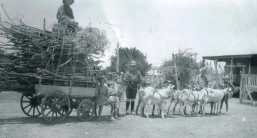 Tambo some early photos, of the Telegraph Hotel, and the school. A lot of Jillett's would have been at the school. Collecting wood around Tambo in 1920's.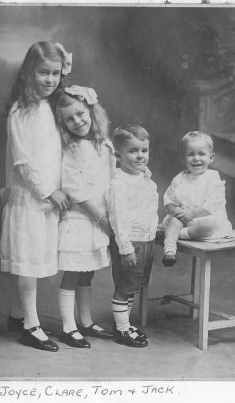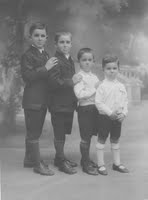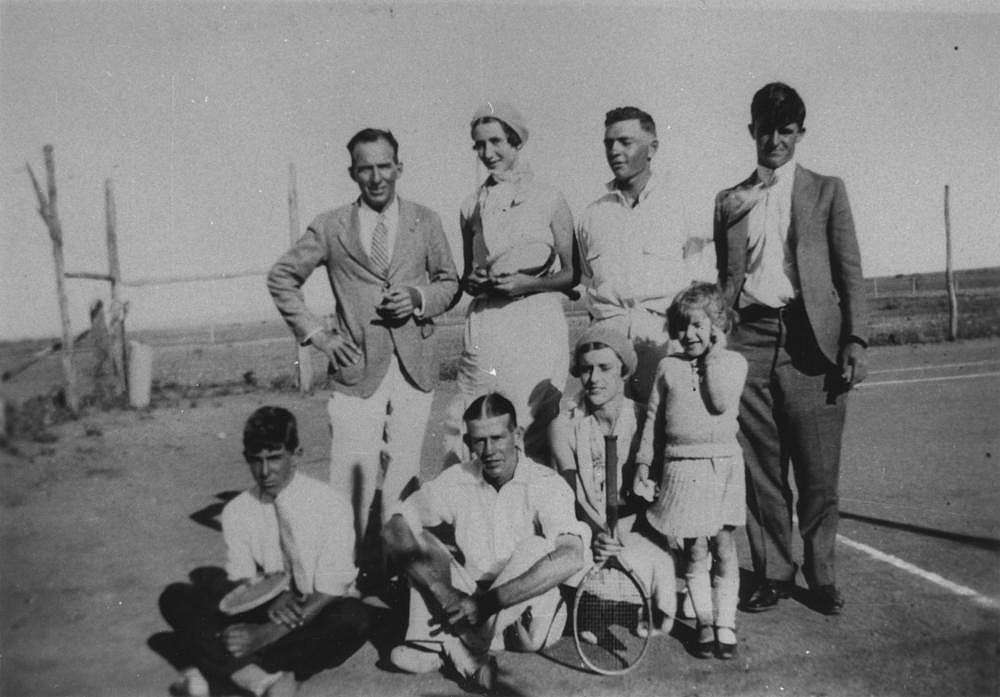 Thanks to the estate of Mavis Jillett for these photos.
This photo shows the preparations for the wedding of Edward and Flora in 1905.

From the National Archives Photos.