5.
ELIZABETH JILLETT

Elizabeth Jillett was born to Robert and Elizabeth before their marriage, around 1807/08 on Norfolk Island. She was baptised at St David s Hobart on 21st October 1810.

She married John Bowden at St. David s Hobart on 10th October 1827.

John was the child of Mathew Bowden, who had arrived at Port Phillip in the "Ocean" on 22nd October 1803 (from Port Jackson) and then when Port Phillip was found unsuitable the ships had to come to Van Diemans Land. Mathew was the First Assistant Surgeon at Hobarton. His wife, Maria came free.
As Maria (Stanfield) was Mathew Bowden s mistress either Rev Knopwood or Governor Collins made her marry an army person named Sergeant before she was allowed to come to Australia as they didn't want her to get a free trip as Mathew s mistress.

Mathew Bowden (father) died during October 1814.

John was born at Hobart in June 1805.
He married Elizabeth in 1827, and a Mathew Bowden of Lemon Springs (outside Oatlands) was the witness. Their marriage number in the records is 1026.

John and Elizabeth had the following children,:

Susannah Bowden born 7th March 1829, father publican m John Kelly
Mathew Bowden born 11 October 1830 father labourer
John William born 4th November 1832 d 1833 father settler
Eliza born 4 May 1834 father publican at New Norfolk
She was baptised at New Norfolk 25 May 1834

Susannah Bowden married John Oxley (a convict)
Daughter Sarah Ocley married James Thomas Heather (both parents were convicts)
Henry Heather married Mabel Lancaster (g.father was a convict)
Mavis Heather married Alfred Butler (his ggfather was a Pensioner Guard on the Lord Dalhousie)

(Information supplied by Phil Butler)

Eliza Bradshaw married Benjamin Anthony.

4.
MATTHEW BOWDEN - HIS SON MARRIED ELIZABETH JILLETT


Surgeon Matthew Bowden arrived at Port Phillip with Governor Collins at the founding of the Port Philip Settlement as a civil Assistant Surgeon. He had travelled on the "Ocean" and arrived in the Bay on 7th October 1803, four days before the "HMS Calcutta" arrived.

Several references are made of his time at Sorrento in the Knopwood Diaries which appear to be the most consistent record of that Settlement.

As the transfer to Van Diemen s Land took place Matthew is reported to have arrived at Fredrick Henry Bay on 12 September 1804 and walked to Risdon on the River Derwent and thus became one of the original Hobart settlers.

He was appointed Chief Civil Surgeon in 1811 to the Colony and was involved in both the development of the Settlement and the politics of those early years. He died on 23rd October 1814 at the age of 35 and Knopwood makes mention of conducting his funeral service.

Three days before the Fleet sailed to settle at Port Phillips a marriage took place on the decks of "HMS Calcutta" between a Marine, Richard Sargeant and a Maria Stanfield, subsequently Maria bore four children to Matthew Bowden and despite Governor Macquarie warning against "molesting" a marine. It appeared that they lived quite happily on the farm granted to him at Glenorchy. Seven years after Matthew s death Maria had another child who also took the name Bowden, although the father is unknown.

Of the four children born to Matthew and Maria,

John baptised 3rd June 1805. He married Elizabeth Jillett on 10th October 1827 in St David s Hobart.
He appears to have moved to Victoria (c1839) and thence to own hotels at Robe and Penola in the South East of Australia. He was married again in Geelong November 1844 to Catherine Crough.

Matthew, baptised October 1806 died 15th April 1829, aged 21 and is described as a butcher, in the records

William Henry, born 22nd August 1809 appears to have married twice, first to a Janet Anderson in 1831 and then as a widower to Catherine Clark on 22nd October 1835. They moved to Victoria in March 1842 and began a flour mill in Geelong with a farm at Mt. Duneed. They had 10 children.

Ann Elizabeth was born in 1811 and never married.

The fifth child of Maria s was Thomas, born 12th January 1821. He married Sarah Ann Bradshaw in Hobart 10th October 1851 and they had 5 children. Thomas was accidentally shot 7th September 1862 at Glenorchy.


The surgeon Matthew served in the Kings Own Lancashire Regiment before begin commissioned to come to Port Phillip.
Matthew was baptised 13th October 1778 at Houghton-Le-Spring, County of Durham son of John and Elizabeth Bowden - he may well have been a twin with Isabella who was baptised at the same time.

His other brothers and sisters were:

Ann(July 1784)m Thomas Tindale 1816
John(September 1787)d1814
Elizabeth (August 1790)m Stephen Owen 1809
James (December 1793)m Rebecca
Mary(July 1798)m J Oliver 1814

His mother was Elizabeth Bee baptised 1st April 1753 at Houghton-Le-Spring, daughter of John Bee.


(from the research information held by Dianne Struthers)



Mathew Bowden was respected by his family as shown on this copy of his epitaph!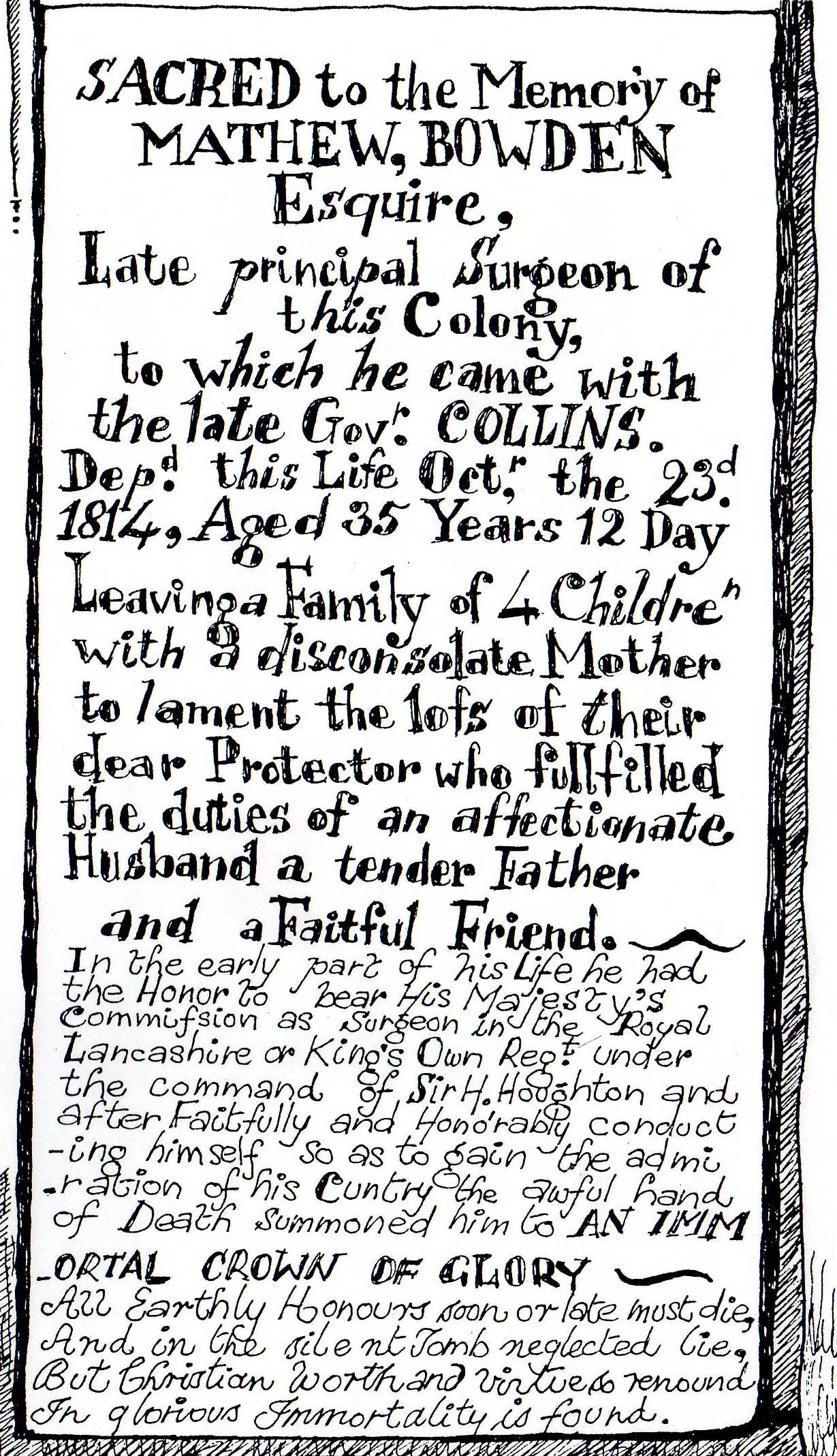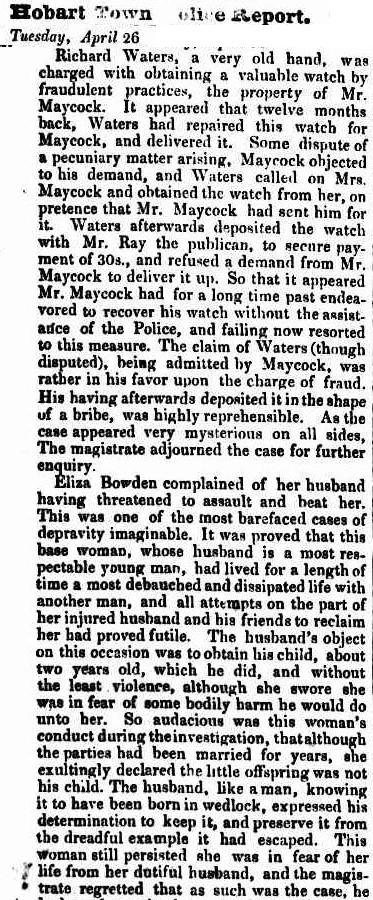 Thomas Jillett in 1880, placed a notice in the Melbourne newspaper, searching for Eliza, who was known to have lived in Mt Gambier.
He had interesting news for Eliza. Signed her uncle Thomas Jillett, Fernhill, Flemington Vic.
This was in 1836. Was the child Eliza? b 1834