Following the members of the Mudge Family from Plymouth and Dover UK




Zachiarah Mudge and Mary Cox

Thomas Mudge Abigal Hopkins

Thomas Mudge Elizabeth Kingdon

Robert Mudge Caroline Jell

Elizabeth Mudge Peter Harnett Jennings

T
he Mudge family history commences with Zachariah Mudge who was born in 1694. His family was centred around Exeter, and Plymouth in Devon.
He was a clergyman, well known and recorded in history, as the following details.

In 1714, at the age of 20 he married Mary Fox. He married in 1762 Elizabeth Neels. And he died in 1769.
He and Mary had 5 children
Zachariah Mudge 1714 - 1753
Mary Mudge 1715
Thomas Mudge 1717 - 1794 m Abigal Hopkins
Richard Mudge 1718 - 1773
John Mudge 1721 - 1793 m Elizabeth Garnett
Zachariah Mudge was a surgeon and apothecary at Taunton, died in Canton China in 1753.

Thomas Mudge was born 1717 d 1794 married Abigal Hopkins.
They had several children







Thomas and Abigal had four children
Sarah Mudge 1757
Charlotte Mudge 1759
Thomas Mudge 1760 1843m Elizabeth Kingdon
John Mudge 1763 1847 Baptised 1763 St Dunstan in the West London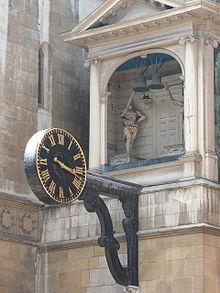 St Dunstan in the West Church Fleet Street London circ . 1900, the famous clock, the organ and internal and current photograph.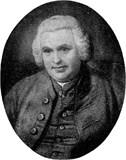 He was a horologist, the son of Zachariah Mudge apprenticed to a watchmaker in 1731, constructed an elaborate chronometer for Ferdinand VI of Spain went into partnership with William Dutton in 1750 retired to Plymouth 1771 devoted himself to improving maritime chronometers; kings watchmaker 1776 completed his first maritime chronometer and submitted it to Nevil Maskelyne to test for the government award 1776 - 7 rewarded after some discussion by government 1792.
Mudge, Zachariah (Rev.), Prebd. Exeter, Litterat. 03 Apr 1769. (A.R. 173; MSS.; G.M. 270.)
Obituary Prior to 1800 (as far as Relates to England, Scotland, and Ireland), Compiled by Sir William Musgrave, 6th Bart., of Hayton Castle, Co. Cumberland, and Entitled by Him "A General Nomenclator and Obituary, with Reference to the Books Where the Persons are Mentioned, and Where Some Account of Their Character is to be Found
Career
In 1748 Mudge set himself up in business at 151 Fleet Street, and began to advertise for work as soon as his old master, George Graham, died in 1751. He rapidly acquired a reputation as one of Englandís outstanding watchmakers, and is now rightly considered one of the greatest and most influential watch and clock makers of the period. Death In 1789 his wife, Abigail died. Thomas Mudge died at the home of his elder son, Thomas, at Newington Butts., London on 14 November 1794. He was buried at St Dunstan in the West, Fleet Street. London.

Next time you visit London be sure to grab a coffee at the Starbucks Café in 151 Fleet Street!
From inventing clocks to keep time, to having a coffee to savour time, what a difference in use!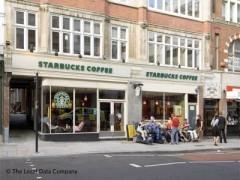 Thomas and Elizabeth had several children including Robert who married Catherine Jell

Robert and Catherine had 5 children

Elizabeth Mudge 1825- 1861 m Peter Harnett Jennings
Robert Elias Mudge 1827 1876 M Susanna Birch
Christian John Mudge 1828- 1829
William Henry Mudge 1829 1856
Mary Mudge 1830 1874

In 1861 Robert was retired and he, his wife and his daughter Mary and his granddaughter Ellen Jennings were living a 3/5 St Martins Close Dover
He died in 1871.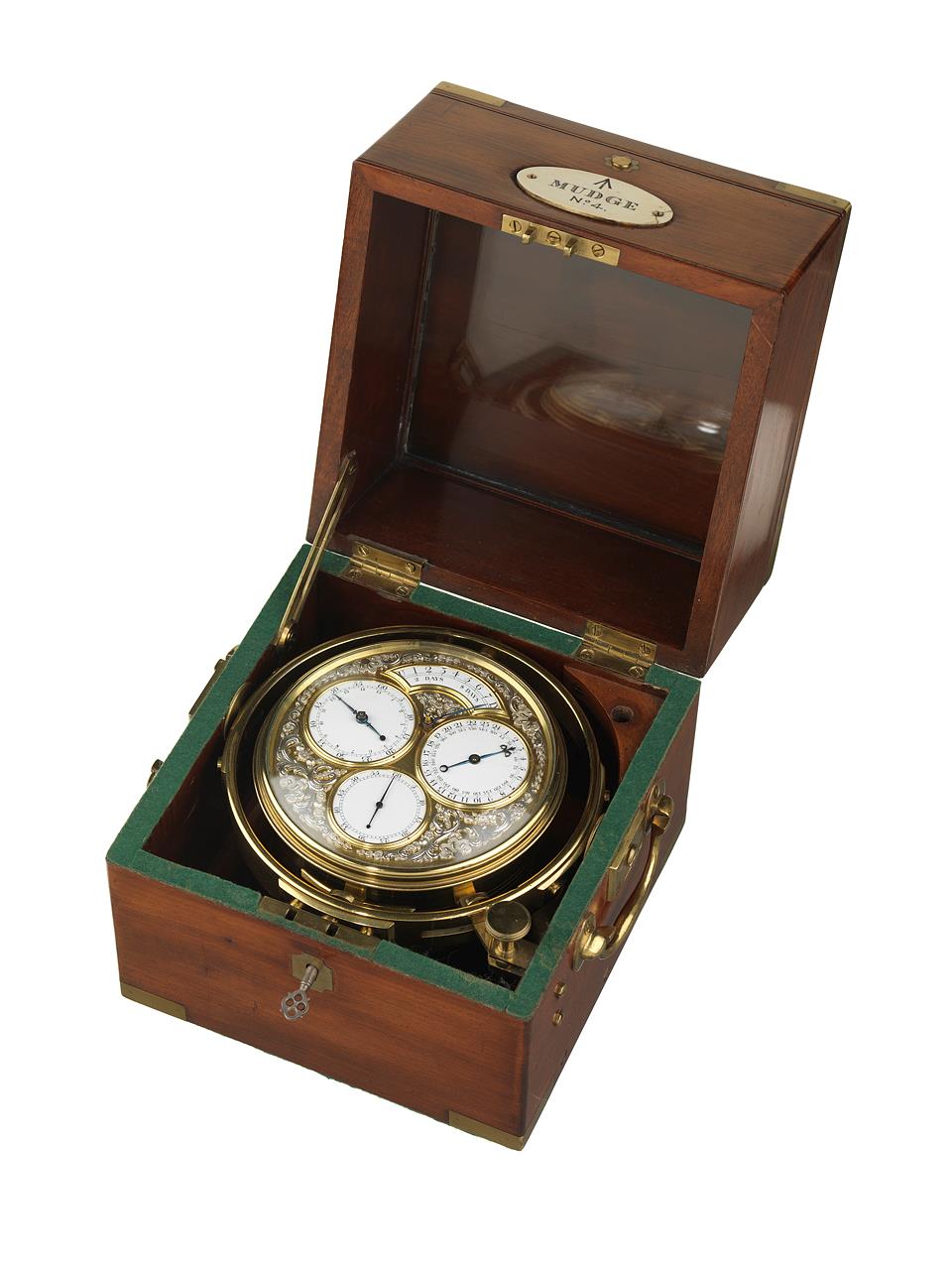 Thomas Mudge, (1760-1843).
ZAA0133

The timekeeper has a gilt-brass dial plate with enamel plates attached for hours, minutes and seconds and a segment above for 'up and down' indication. This is all flanked by highly chased and engraved solid silver spandrel decorations. The timekeeper has polished blued steel beetle and poker hands with a fine pointer blued steel second hand with a counter poised tail and a blued steel up and down pointer.

It has a fine, eight-day full plate, gilt brass movement with four turned pillars and with reversed fusee, which has Harrison's maintaining power, and double, tandem barrels. The timekeeper has a four-wheel train plus a great wheel, with the fourth wheel incorporating a separate reverser for the second hand.

The potence plate is signed: 'No.4. Howells and Pennington, FOR Thomas Mudge 1795'.

The timekeeper has a Pennington-type Earnshaw spring detent escapement with the detent set into the plate, and with a two-arm bimetallic balance with straight, narrow arms. The finely polished, blued steel helical balance spring has terminals on both ends, the upper terminal attached to a gilt-brass pointer stud. The jewelling extends to the balance (diamond upper endstone in a blued steel setting) and escape wheel, with endstones, the lower fourth hole and the escapement parts as mentioned.

The timekeeper is held in a three tier, plain mahogany box, 190mms high, 200mms wide and 190mms deep, with an inlaid, brass, scalloped rectangle escutcheon on the front. The lid of the box is on butt hinges and has a brass, scalloped rectangle inlay in the lid, without engraving. The upper half is on butt-hinges and has a narrow scratched moulding just above the junction with the lower half and just below the junction with the lid.


On the front of the upper half is an oval ivory tablet engraved: '
↑
/ MUDGE / No.4' and the push-button for the lid has a brass, petal-shaped inlaid surround. The box has a green baize lining along the inside of the junction on the lower half, forming a dust seal when closed. The box fittings are standard, with brass drop handles fitted to the sides and lacquered brass gimbals. The interior fittings are of a standard layout, with a strut to the upper half, stopping it open at ninety degrees. The winding is now of the 'Barraud' type, with a fixed wheel with 'folding wings' attached to the fusee arbor.

The threaded bezel is of the narrow moulded type containing a convex glass over the dial. The bottom of the box has a coarse, dark green baize covering. The timekeeper has been extensively altered since its first creation, now being fitted into a more conventional, 19th century-type chronometer box dating from perhaps the 1830s. The brass furniture and gimballing have been rather heavily polished and lacquered. The chronometer was purchased by the Board of Longitude from Mudge Junior and was in extensive R.N. service until at least June1913 (nearly 120 years), after which the records do not survive.


The 'Mudge copy' timekeepers were produced between 1794 and 1797 in a short-lived manufactory established by Thomas Mudge Junior (1760-1843), the son of the celebrated chronometer pioneer, the London watchmaker Thomas Mudge (1715/16-1794). Mudge Junior established the factory to produce timekeepers on his father's plan, with the intention of proving their design was sound and partly in the hopes of making money. Sadly neither aspiration was successful, owing to Mudge senior's highly complex constant force escapement and the fact that the instruments were finished to a superb (and very expensive) standard with the whole movement gilded and the dial with top quality enamel dial plates and pierced and chased silver spandrels.


The cases for the copies were very elaborate too; the movements were mounted in a fine, glazed, brass inner case, which was in turn fitted into an octagonal mahogany case, itself then mounted on trunnions in a square mahogany box. Mudge Junior initially employed two highly respected watchmakers to operate the factory; William Howells, who would make the complex escapements and Robert Pennington, who oversaw the movement making and made the trains, the two in charge of a number of other craftsmen under them.

The factory was set up on Howells' premises, which was to prove the first of many mistakes made by Mudge Junior in this enterprise. Work started on the timekeepers in 1794 with the eighty year old Thomas Mudge Senior advising for the first few months before his death in May that year. These first instruments were signed 'Howells and Pennington, For Thomas Mudge' and dated with the year of completion. These instruments will be referred to as 'H&P' timekeepers.

Problems appeared almost immediately, as the instruments were so complex and difficult to make and adjust, and after eighteen months, only eight were complete. At this point (1796) Mudge Junior tried to introduce more craftsmen to speed up production and a row broke out with William Howells leading to Mudge dissolving the agreement and having to move the factory to another site, leaving Howells, now a rival, with a ready made factory.


Howells immediately went into partnership with Paul Philip Barraud (probably as entrepreneurial financial backer) and George Jamison (probably filling Pennington's role as frame and train maker) and started to manufacture simpler versions of Mudge's chronometer design (to be referred to as 'H,B&J' timekeepers). Among many technical simplifications, these instruments had a single mahogany box and plain white enamel dials without silver spandrels.

At the same time, Mudge Junior now employed the respected escapement maker Richard Pendleton to fill the gap left by Howells, and the timekeepers made by this new set up (still to Mudge's high specification) were signed 'Pennington, Pendleton and Others, For the Son of the Inventor' ('P,P&O' timekeepers). Both manufactories considered themselves as a continuation of the first factory, so the numbering of the instruments began as H&P numbers one through to eight, but then both H,B&J and P,P&O run from nine onwards!

However, neither manufactory really succeeded in making the projects work as the timekeepers were just too complex ever to be reliable in the long term. Production by Mudge Junior's factory had ceased by 1798 after about twenty-seven timekeepers had been created (including the first eight), though not all were finished. Howell's partnership fared even less productively, splitting up in 1799 with only about seven instruments being produced and most of those probably incomplete.

Looking at all the evidence, it now seems likely that Mudge Junior, by this time thoroughly tired of the whole expensive saga, sold out 'lock, stock and barrel' to Paul Philip Barraud. Then, in the early years of the 19th century, Barraud had the whole remaining stock of timekeepers from both manufactories converted to the tried and tested spring detent escapement and sold as working chronometers, renumbered to fit his own current sequence. Of the twenty-seven made by Mudge's manufactory we now know of the existence of eighteen instruments (table of known instruments).
circa 1795

National Maritime Museum, Greenwich, London, Ministry of Defence Art Collection
Some of Thomas Mudge's works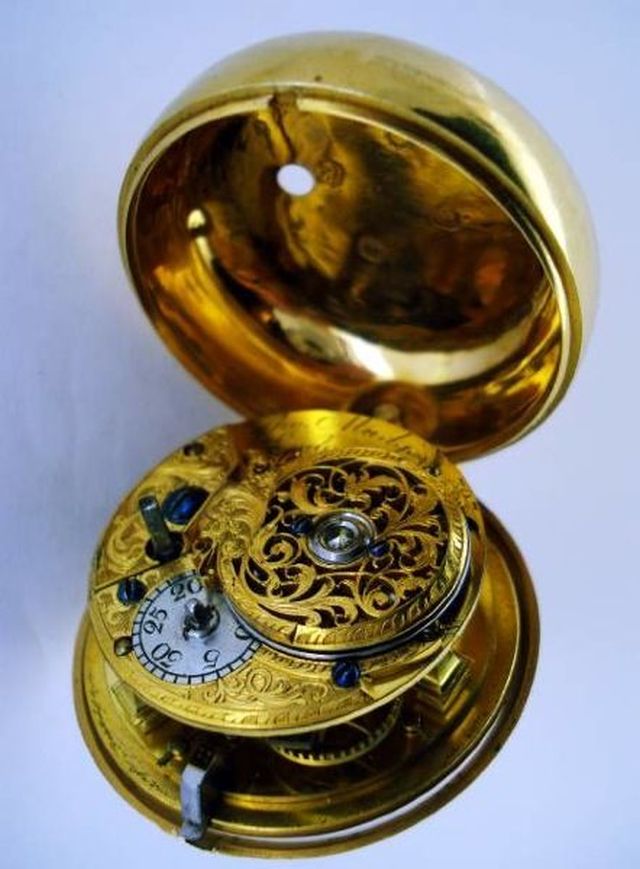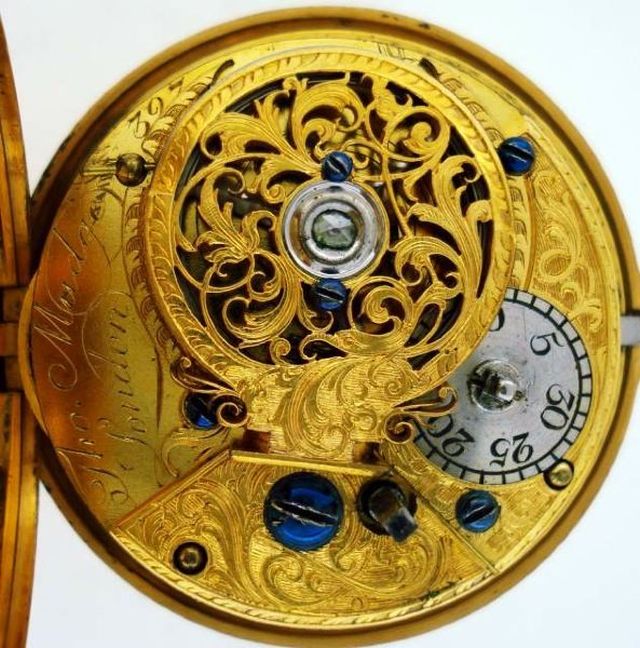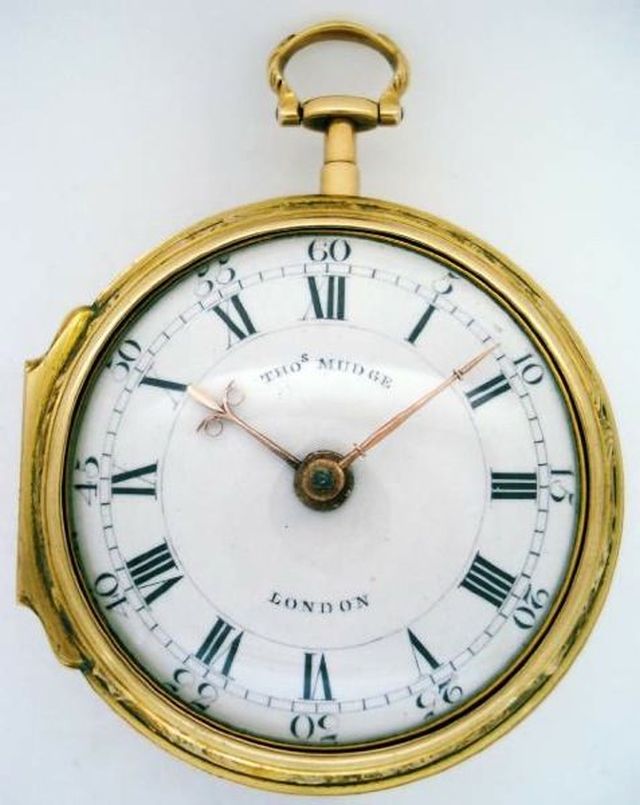 Thomas Mudge's timepieces are collector's items