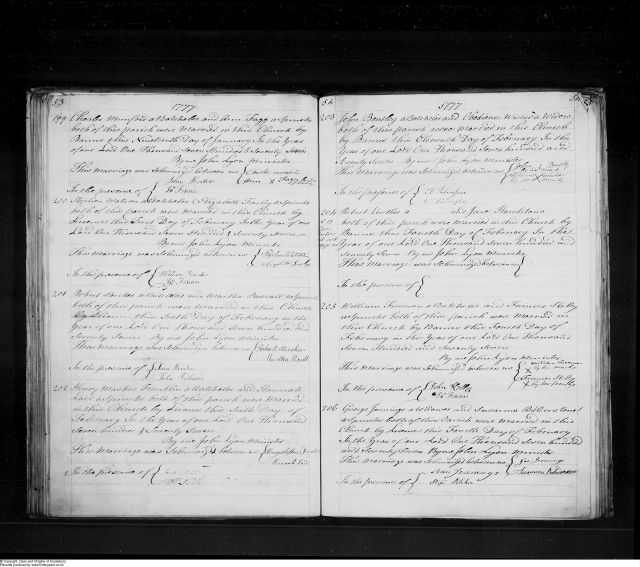 Mary Harnett was born 1780 and died 1863. She was the daughter of Peter
Harnett and Elizabeth Finnis. Peter Harnett and Elizabeth Finnis were married
by licence, 9th April 1768
She was born in Lydden, Kent.
Peter Harnett and Elizabeth Finnis
Ellen Jennings family lines can be traced several generations
Robert Finnis and Ann Spicer
George Jennings and Susannah Balderstone
George Jennings and Mary Harnett
Peter Harnett Jennings and Elizabeth Mudge
Ellen Dumergue Jennings and James Henry Sedgwick
The Jennings family had its origins in Kent.
Ellenís family were involved in the Anglican Church. Her father Rev Peter Harnett Jennings was a minister and missionary. He went to China with the CMS mission, and
Ellen was with him in Hang Chow. That is where she met and married Rev. James Henry Sedgwick.
Tracing Ellenís family
George Jennings
Peter Harnett Jennings was the son of George Jennings b 1790 in Dover Kent. He married Mary Harnett in 1801. George died in 1861 in Dover Kent. Mary died in 1863
He was the son of George Jennings b 1778 in Dover Kent, who married Mary Harnett in 1801.
George Jennings was the son of George Jennings who was born 1753. In 1777 he married Susannah Balderstone. He was listed on the marriage record as a widower.

Elizabeth Finnis was the daughter of Robert Finnis and Ann Spicer. Robert and Ann wee married at St Mary the Virgin Church in Kent on 28th November 1750.

George Jennings and Mary Harnett had the following children:

George Finch Jennings 1802 - 1866
Mary Jennings 1806 - 1865
Robert Finnis Jennings 1815 - 1896
Peter Hartnett Jennings 1816 - 1893
Adelaide Jennings 1820 - 1881

Their children were provided with the second names of their ancestors.

George Finch Jennings married Hester Worthington. George and Hester lived in Buckland in Kent, and he was a magistrate. He was also listed as living in Lostbrook Cottage, Eastbrook Place Buckland in 1858, and owner of a public house.
He may have owned it with his father.
On 29th September 1831 George Finch JENNINGS bachelor of St Mary Dover to Hester WORTHINGTON spinster this parish by Licence. Witnessed by Charlotte WORTHINGTON and Charles CARLIN
In 1836 he was a Commissioner for the Town of Dover. In 1853 he was party to an appeal from the Church wardens of the parish of Reculver to removed one Sarah Ann King and her three children from the parish of St Mary the Virgin Dover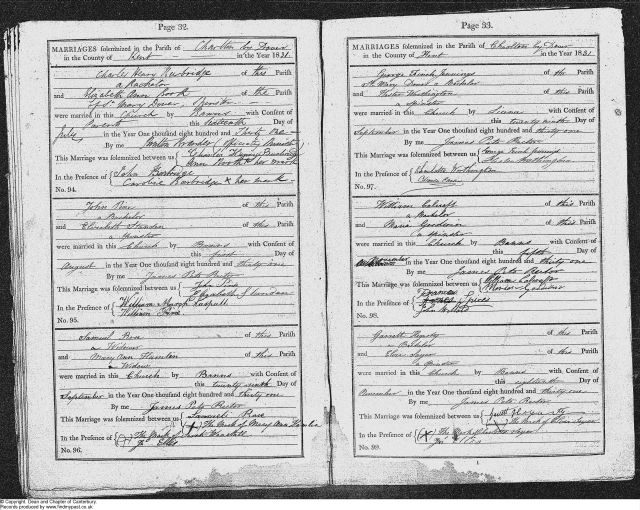 Robert Finnis Jennings was born 1815 and he married Emma Sladden 10th December 1845 Her father had a property known as The New Farm in Christ Church Canterbury and lived at Broomfield
Robert was a solicitor, and they lived at River House, River in Kent. He must have been quite successful, as he had 7 servants in 1851!
In 1848 one of his employees was jailed for stealing uncleaned barley from his property at Northborne.
He was appointed a guardian of the poor of the parish in 1865 and in 1869 he was selling his property East Bottom Farm, Ringwold, near Dover. Having 400 acres, and a dairy herd.
He also lived at the old River Workhouse.

Mary Jennings married a relative of Hester, named Henry Worthington. Mary was born in 1806 and died in 1865 in Belgium. Henry died some 4 months later in 1866, in Belgium.Mary and Henry had 9 children and some of those children died while fairly young.
Maryís brother Robert Finnis Jennings was a solicitor and he was responsible for sorting out all the wills and the executors. Her other brother Peter Harnett Jennings was a minister. One can imagine that he may have been out of his depth whilst running the Pub! It still operates today near Deal in Kent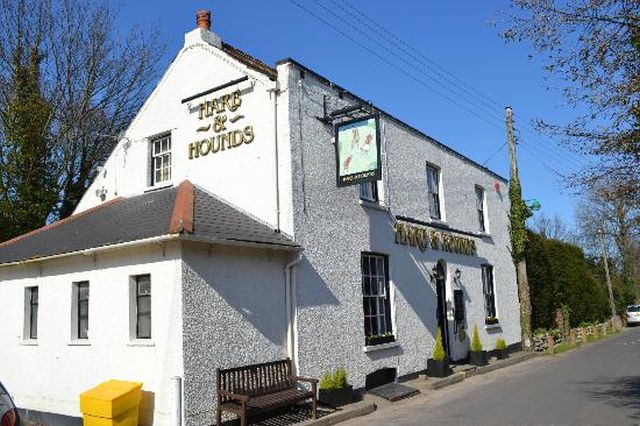 Peter Harnett Jennings married Elizabeth Mudge. Elizabeth's family were quite famous.

Peter married Elizabeth Mudge October 2nd 1847, at St John's Dover

They had seven children
Harnett Ellison Jennings b 1848 d 1939 Married Agnes Mary Jeken b 1846
Rev Harnett Jennings went to Cambridge as did his son Charles.
Katherine Bessie Jennings b 1849 d 1905
Katherine did not marry and in 1891 was living with her brother in law James Henry Sedgwick and his son Harold.
Ellen Dumergue Jennings b 1850 d 1883 m James Henry Sedgwick
Charles Pollexfen Jennings b 1852 d 1873
Ada Mary Geraldine Jennings b 1854 d 1879
William Henry Mudge Jennings b 1856 d 1881
Courtenay Balderstone Jennings b 1860 d 1954 m Emma Garmeson b 1857

Peter lost his wife in 1861, and at that time his children were quite young. and in the 1861 census, Ellen aged 10 was living with her grandparents, Robert and Caroline Mudge at St Martins Street Dover.

Sadly only two of his children lived a long life, both were Anglican ministers.

St Mary Magdalene Church is listed Grade II* and is a small essentially 13th - 14th century building with a single north aisle to the nave. There has been a tradition that much of the early church was built c.1343, as indicated by the style of decoration of the chancel windows. During 1999 the old plaster rendering in the chancel was removed both inside and out for renewal. Inspection of the hidden construction revealed the chancel to be at least 100 years older. The internal bull-nosed roll moulding, the north window and the sedilia are 13th century. In addition the type of flint work, hidden once again, arranged herring-bone fashion, suggests an 11th century building. The use of split flints added to this gives a possible 12th century dating for further work.

In the chancel, the piscina, uncovered in 1999, is carved out of a 12th century column capital which must have come from the previous building on the site. Canterbury Cathedral has a similar capital dated 1160. AD.

Originally there was a medieval screen across the chancel opening but it was taken down in 1886 and it was used to make the present pulpit, reading desk and clergy stall. In 1935 the son of the Rector responsible for the alteration and to atone for father's sins had plans drawn up and offered to have the screen reinstated, but so little of the original woodwork could be used it was decided to abandon the idea.

There is a small Mission Room on the village green at Longfield Hill (no longer in use) which was originally the Longfield School built in the late 19th (In 1841 the population of Longfield was 128)

When the 'new school' was built in Longfield (now sold) the Longfield Hill building was sold for a private dwelling for the sum of £30. Subsequently it was bought back by the church for the sum of £40 to be used as a place of worship.

The church has a fine old bible printed at Oxford in 1685. It is leather and brass bound and measures 18'' x 12'', is 4 ½ inches thick. Inscribed on the front cover page is the following:

A thing of beauty is a joy forever

with the following explanation

Peter Harnett Jennings, 1816-1893, scholar C.C.C. Camb.; Rector of Longfield 1866-86 gave this Book, a copy printed in 1685, of the most valuable thing this world affords, to the church of St Clement, East Dulwich, where it was constantly read and highly valued for the 53 years of the incumbency of his eldest son, the Rev. Prebendary H. E. Jennings, by whom on June 19th 1938, it was returned with loyal affection to the parish church of 'St Mary Magdalene', Longfield, and honourably accepted by the Rector on the four-hundredth (400th) anniversary of the placing of the English Bible in the parish churches of England.''

The Rev. Canon William Parker, B.D.Hon. Canon of Rochester, Rector of Longfield, Kent.

The Authorised version of the bible still in use has a shorter but interesting history, which is told in the inscription:

''This Bible was part of a consignment being shipped to America in 1941. It was picked up after enemy action had sunk the ship, dried out in a bakery at Margate, Kent, by Mr A.F. Dunkley, and preserved.

It was given to his son, Rev. R.A.L. Dunkley after his ordination and subsequently presented to ''St Mary Magdalene Church'' Longfield, Kent; his first living as Rector, in the second year of his ministry, 1965.''




In 1881 Peter had remarried Ellinor Frances Frewen Fletcher and they were living at 8 Campden-hill Square, Kensingston London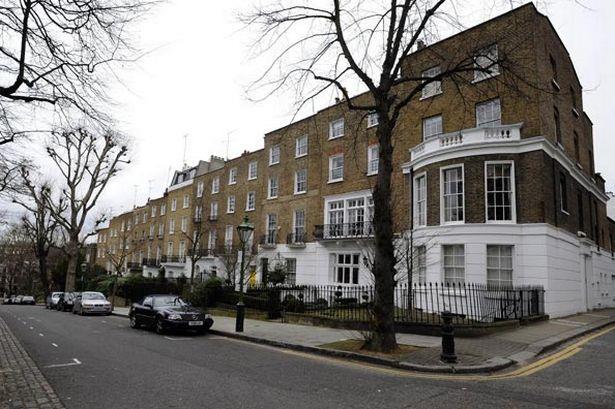 June 11 1881 at the parish church of St Mary Abbott's Kengsington the Rev P Harnett Jennings MA Rector of Longford Kent to Ellinor Frances, eldest daughter of the late William Fletcher Esq of the India Board, Westminster and Notting hill Square.

Rev Peter Harnett Jennings died 2nd August 1893.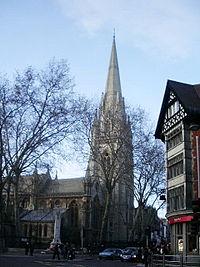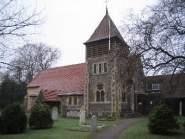 LONGFIELD, a parish in Dartford district, Kent; on the London, Chatham, and Dover railway, 3 miles WNW of Meopham r. station, and 5 SW of Gravesend. Post town, Gravesend. Acres, 581. Real property, £757. Pop., 188. Houses, 37. The living is a rectory in the diocese of Rochester. Value, £300. Patron, the Bishop of Rochester. The church comprises nave and chancel, with a porch; but is very small. Archdeacon Plume, the founder of the Plumean professorship at Cambridge, was buried here; and his charities, for augmenting livings and for other purposes, amount to £343 a year.
Inscriptions in the Churchyard at Longfield, Kent.


23. Cross - on the four sides of the base are -
Charles Pollexfen JENNINGS, R.N., second son of the Rector of this Parish. Born October 27th 1852.
Called away August 29th 1873.

William Henry Mudge Jennings, B.A., third son of the Rector of this Parish. Born September 26th 1856.
Entered into rest March 18th 1881.

Ada Mary Geraldine Jennings, youngest daughter of the Rector of this Parish. Born February 11th 1854.
Fell asleep November 2nd 1879.

Helen Elizabeth Jennings, daughter of the Rev. H.E. Jennings and grand-daughter of the Rector of this Parish. Born June 15th 1878. Fell asleep January 29th 1880


Harnett Ellison Jennings married Agnes Mary Jeken. He was the Vicar of St Clement's East Dulwich for 51 years and a clerk in Holy Orders for 65. They were married February 1st 1872, and celebrated their 65th wedding anniversary in 1937.
In 1873 they were living in Palmacotta India, where their eldest son was born. And later at 11 Maison Dieu Road, Dover.
They had four children:
John Harnett Jennings 1873
Catherine Mary Jennings 1877
Charles Jennings 1881 - 1979 He married Margaret Tate.
William Jennings 1882
Both he and his sons went to Cambridge University
In 1891 he married Emma Garmeson.
Edward Courtenay Jennings 1894 d
Kathleen Elizabeth Jennings 1896
William Lukes Jennings 1899 - 1977
He died 27th December 1954 and is buried at St
Peters Anglican Church Paglesham Essex

Charles Pollexfen Jennings
He was born 1852 in Southampton, and died in tragic circumstances in 1873.
Charles had been serving on the SS Wolverene in Africa and had been invalided home. He was walking with his brother Harnett Jennings beside the wharf at Dover, and he decided to go for a swim. Unfortunately he drowned. The following article regarding the accident and the coroners inquest, appeared in the newspapers

Ada Mary Geraldine Jennings
Ada was born in 1854 in Southampton, and died in 1879 in Dartford borough, Kent
Ada attended school where her father was the headmaster in Bethnel Green in 1861, and then at St Mary's Hall Brighton in 1871

William Henry Mudge Jennings
William was born in 1856 and christened at All Saints Southampton. In 1861 he was attending the Bethnel Green School where his father was the principal. In 1871 he was at Hartley Kent.
In 1875 he attended the Norwich and Rochester Grammar Schools and he matriculated with a BA in 1879.
He was the mathematical master at the Bath Grammar School from 1880 - 1881.
He died in 1881.

Adelaide Jennings did not marry. She lived at Gyprus House As,next Sandwich, but then in an old people's home at Grove Cottage Harbledown, in Kent. When she died she had an estate of over £11000! Rev Peter Harnett Jennings was her executor.
COURTENAY BALDERSTON JENNINGS
His mother died around the time of his birth, and at the age of 3 months he has being cared for by Mr and Mrs. Langley at 5 Buckland Street Buckland. Mr John Langley was a cleric at St Andrews Church Buckland.
He was back living with his father and family by 1871. He also went to Cambridge.