Thomas and Susannah had two children. Mary Ann Shone and Thomas Allen Shone.

Thomas Allen Shone b 24 May 1823 m Eliza Cockerill b 11 Dec 1837 at St David's Hobart
on 25 September 1855.
Thomas died 11 August 1913 and is buried at New Norfolk Cemetery. Eliza died 31 July 1920.



Children:

Eliza Susannah Shone b 27 Sep 1856 married Arthur Morey on 1st January 1884 at St Matthews New Norfolk.

Thomas Henry Shone b 9 Sept 1858 married Sarah Stickles Pilkington on 27 January 1886 at New Norfolk. He died 9th August 1891 **

Laura Lavinia Shone b 12 August 1860 married George Jillett 16 February 1881 Laura died in 1909

George Westlake Shone b 30 Sept 1862 He died 26 November 1937

Alfred Edward Shone b 20 June 1864 married Florence Blakeney 20 April 1897 in Hobart. He died 14 Sept 1960 at Clarence Tasmania

Walter Allen Shone b 7 April 1866 married Evaline Isabel Jane Young in 1911. He died 20 August 1941 at New Norfolk

Amelia Matilda Shone b 5 Nov 1867 married George Edward Dupree Morey 6 Feb 1889. She died 6 Feb 1889 at New Norfolk

Amy Letitia Shone b 3 Feb 1870 and died 6 June 1956. She did not marry

Lillian Shone b 6 Aug 1871 and died 10 August 1962 in Hobart.

Stanton Henric Shone b 4 Jan 1874 married Lulu Mezger Hurburgh 24 Oct 1900 in Hobart. He died in March 1956

Minna Estelle Shone b 13 May 1876 married William Pascoe Langmaid on 26 Feb 1915. She died in England

Arthur Charles Shone b 15 August 1878 and died 3rd July 1881.

(Poor Eliza 12 children over 22 years)


Life was hard to Thomas and Eliza, "The depression years and bad seasonal conditions caused many problems with hop growing. In January 1876 three days of flood rains caused severe landslips. One landslip brought down hundreds of tons of earth and cut a trench 300 yards long by 10 to 40 yards wide by 8 to 10 feet deep on the Shone's property and 5 to 6 acres of hop fields were lost". Mavis Chappell.

Amy and Lillian lived together at Stanton on an inheritance from their father until 1935 then they were joined by James Malcolm Cockerill who purchased the property from the estate. At this time the house was divided and James and his wife Irene lived in one part of the house, while Amy and Lillian shared the other part.

** Children of Thomas and Sarah Shone Sarah's parents William James Pilkington and Louisa Piety. She was born 23 Aug 1866 and died
3 November 1939 in Victoria

Emily Moena Shone b 1884 married Robert Abbott on 14 July 1903 in Hobart. She died 29 June 1930 in Launceston
Laura Lavinia Shone b 16 June 1886 and died 2 August 1886 buried at New Norfolk
Albert Thomas Shone b 29 May 1887 died 3 July 1887 buried at New Norfolk
Thomas Allen Shone b 9 Aug 1888 and married Georgina Milfred Lava Butters died 3 August 1964 at Heatherton Victoria ******
William Shone b 8 March 1897 d 8 March 1897

*****Children of Thomas and Georgina Shone Georgina's parents James William Butters and Caroline Lewis

Allan J. Shone b 1915 died 26 October 1944
William Lewis Shone b 3 Feb 1916 Parkville Victoria married Evelyn Mertyl Smith 28 Dec 2940 died 13 Dec 1984 Frankston
Joyce Shone b 15 June 1918 married Sydney Carbis died 1 Aug 1981
Lorna Shone b 17 Jan 1923 Brunswick Victoria married Arthur Clements died 2 November 2008 at Coburg
Thomas Jabey Shone b 1924 married Mavis Lillian Smith died 1980 Coffs Harbour NSW
Irene Shone b 8 May 1925 Collingwood married Kevin Brown died 2006 Victoria
Gweneth Caroline Shone b 4 Mar 1928 at Brunswick
Moena Mary Shone b 19 Nov 1930 married Maxwell David Davies
Patrick Robert Shone b 2 Dec 1931
Monica Anne Shone b 26 April 1933 married William McGarry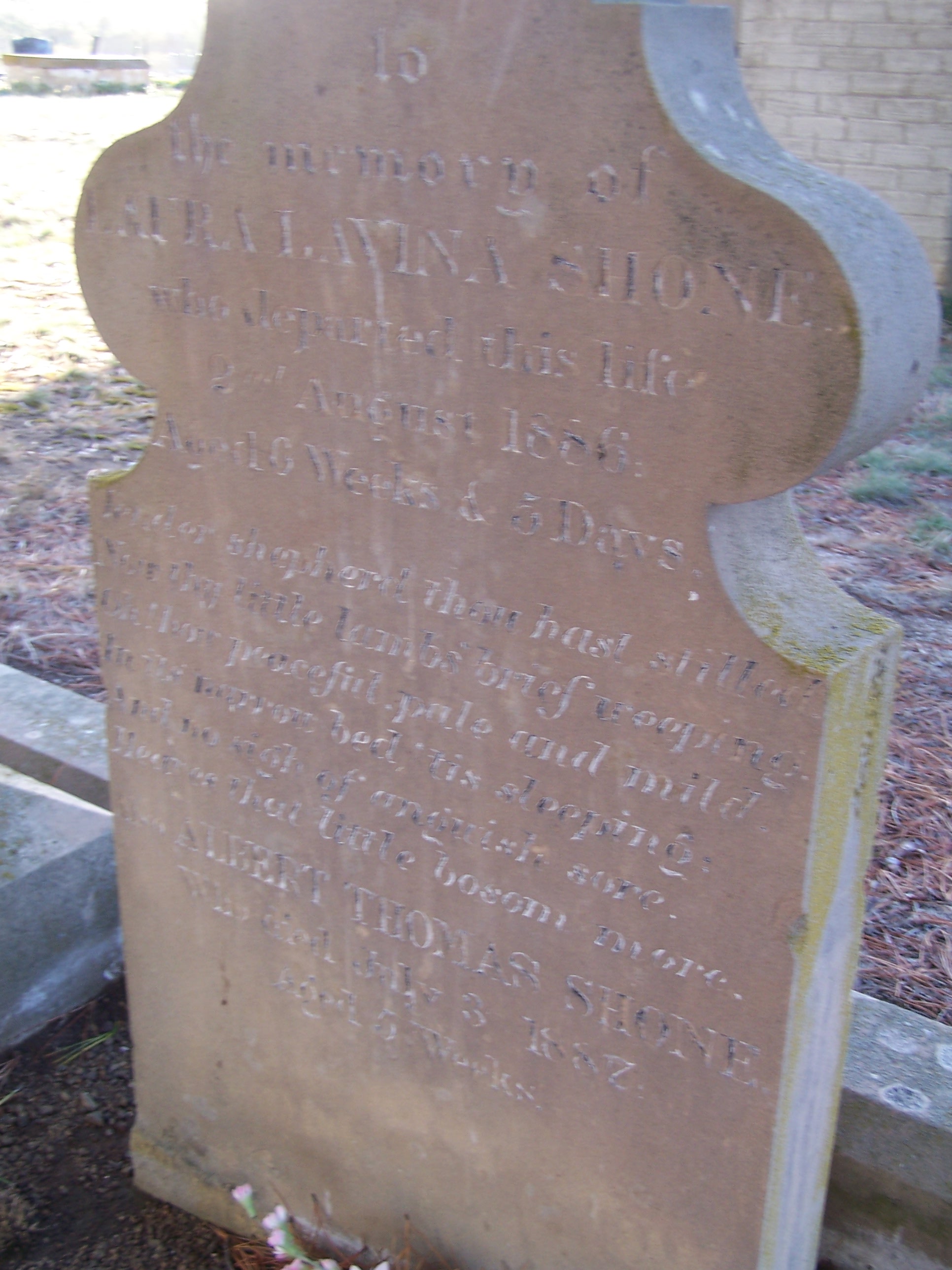 Laura Lavinia Shone and Albert Thomas Shone Grave at New Norfolk Cemetery, Back River.
Thanks to Keith Reeves for the information