M
y paternal grandmother is Ethel Margaret Herron - a second generation Australian.

Born Ethel Margaret Schossow at Harrisville on 25th November 1922, my grandmother is the descendent of German immigrants who settled in the Fassifern Valley, west of Ipswich in South West Queensland, in the mid-1800 s.

Raised during the depression years of the 1920 s and 1930 s, Ethel spent her very early childhood in the Fassifern valley. However, she spent most of her formative years on a dairy farm at Tansey. In 1946, at the age of 23, she left the farm and worked for a while in Brisbane.

She virtually married the "boy next door", Dale Herron, whose family were share farmers on the neighbouring property at Tansey. He always admired the beautiful long haired girl next door.

After Dale returned from World War II, he and Ethel were married in 1946. They raised five children while variously running businesses at Dalby, Hervey Bay and at several places in Brisbane. She and her family finally settled on a small crop farm at Boondall in 1960. The wheel had turned full circle.

She retired with her husband to Redcliffe in the early 1970 s. They became actively involved with the Horticultural and Show Society and operated their own small plant nursery.

Probably due to her Germanic upbringing, and a father and mother who believed in honest hard work, Ethel is a strong-willed person who still enjoys an active life. Her forebears were extremely long-lived and history may show that Ethel too will live to a fine old age.

Ethel s philosophy on life evolved from her hardships and her will to carry through. She says, "we were used to doing without, therefore we made do with what we had."


The German Immigrants:

There is a surprisingly long history to both sides of Ethel's family. Good records appear to have been available to researchers, quite possibly due to Teutonic efficiency both in Germany and the early administration at Ipswich. For all her life Ethel has been under the influence of, or influenced by, a strong Germanic upbringing. As a consequence it is intriguing to search out the German background as it is a very important component of her life.

In the 1860 s there appears to have been a concerted migration from the different German States to the new country of Australia. This was possibly due to persecution and the political upheaval just prior to the merging of the separate states and, also, on hearing of the success of brethren who had arrived in the 1850 s. There was certainly an organised migratory program from the Baltic area with shiploads of immigrants leaving to start a new and unknown life in this far off land.

A large number of these immigrants settled in the Fassifern Valley and the Murgon (South Burnett) areas of the new colony of Queensland. It was probably a foregone conclusion that the offspring of the different families would inter-marry and form a very strong Germanic community. Inter-marriage among Germans was common and tended to complicate family
relationships. An example of this is revealed later in this biography.


It is unclear why Germans settled this area in the 1860 s. Ethel says that the Fassifern Germans were known as "Low Germans" and those at Murgon/ Tansey were "High Germans". She does not know why this classification was used. However, if the dictionary definitions of the terms are taken it seems that some "High Germans" also settled in Fassifern.

"Low German" - German of the Netherlands including Dutch, Frisian, Flemish and Old Saxon.
"High German" - Originally the form of German spoken in the south and now adopted as the literary language of all Germany.
(Source - "The Concise English Dictionary")

However, they brought with them "old country" tenets of hard work, place names, and the habits, languages and characteristics of Germany/ Prussia such as the Lutheran religion.

Travelling through the region today, place names such as Templin appear on signs, and very many roads named after the families such as Schossow, Gimpel, Goetsche and Zahnow (pronounced Zauner) can be identified.

Two ship's voyages are of particular interest. That of the "Helene" in March 1865 and that of the "Caeser Godeffrey" in November 1865. For it was on these voyages, that the Schossow and the Dickfos families journeyed to their new homeland, each coming from a different region of Germany.

The Dickfos Family:

There is considerable information on the Dickfos family as good records have been available from Germany. Also much of the history in Australia is still intact in the Fassifern Valley area.

Ethel s maternal great-grandfather was Johann Christian Friedrich Dickfoss who was born on 15th July 1816 in a small village of Gerswelde near Templin in Prussia. Johann was christened on the 28th July 1816 at the Gerswalde Parish Church. His parents were Friedrich Dickfoss, a carpenter - journeyman, and his wife Louisa, nee Bechley. It is uncertain whether Friedrich is the son of Johann Carl Dieckfoss who married Johanna Eleonora Engelerin on 23rd October 1791 in Berlin, Parish of Jerusalem.

The spelling of the family name varies somewhat. This is most likely due to the few educated people trying to fathom the vagaries of the spelling of family names, which were from different German states and passed down orally over the centuries. The current spelling, Dickfos, is the form that has been used in Australia.

Nothing is known of Johann's formative years. He was working as a trade labourer when he married Johanne (Anna) Friedrike Reick in 1842. The couple had one child, Johann Friedrich August Dickfos, who was born on 28th December 1842. Due to complications in childbirth, Anna died soon afterwards.

Johann re-married to Dorethea Runge at Herzfelde near Templin in 1844. Dorethea was the daughter of David Runge, labourer, and Annie Catherine Cronow. She was born at Herzfelde, Templin on 28th January 1819. Together, they had four children, Wilhelmine, Carl, Caroline and Hermann.

Records indicate that Johann and Dorethea probably had two more children, Emma and Anna. It was originally thought that they were born in Australia. However, there is some evidence to indicate that they were born in Germany, although the passenger manifest on the family s arrival does not indicate their names. They may have been left with relatives in Germany and arrived on a later voyage. Their birthdates are not known.

Little is known of the family s life until 1865 when they emigrated to Australia. They boarded the "Caeser Godeffrey" in Hamburg on 15th October 1865. This ship travelled to Cuxhaven, finally leaving on 5th November 1865. It arrived in Moreton Bay on 15th February 1866.

Shipping records show the Dickfos passengers as:
Dickfos,Johann aged 49 years
Dorethea aged 46 years
August aged 23 years
Wilhelmine aged 18 years
Carl aged 15 years
Caroline aged 10 years
Hermann aged 7 years.


The family s movements are not known until the 5th November 1866 when Johann Dickfos became a naturalised citizen of the Colony of Queensland at Ipswich.

The area in which they settled was referred to as Rosa Ville, or Rose Vale.

On 28th December 1872, Johann s eldest son, August, made application for a land grant. He applied for forty acres of agricultural land and eighty acres of pastoral land . Under the requirements of the "Homestead Area Act of 1872", August was required to make improvements on the grant of land and the record of this promise is officially recorded on the "fulfilment of conditions" document, signed by Wilhelm Schultz and Henry Schneider on 6th June 1878.

Describing himself as the "head of a family", Johann applied for forty acres of agricultural land and eighty acres of pastoral land on 13th January 1873 at Coleyville . A "fulfilment of conditions", document signed by Johann Dickfos and Carl Stolpe on 4th July 1878, shows that a slab and shingle dwelling house and a barn had been constructed. Also, fourteen acres had been cleared, cultivated and enclosed for about one mile with a two rail split fence.

Johann died from influenza on 24th September 1894, aged 78 years. Dorethea died two years later from inflammation of the lungs on 30th August 1896. This is the date shown on her death certificate but it varies significantly from the date on the tombstone (21st September 1896). Both Johann and Dorethea are buried in the Coleyville cemetery.

The descendant line of interest is that of their youngest son Hermann, born on 29th May 1858.



Herman Dickfos and Anna Fischer

Hermann applied for, and was granted, 320 acres in the County of Churchill, Parish of Thorn on the 20th August 1879. On the 22nd November 1880, he applied for an additional selection of 57 acres 2 roods located in the same parish as his first selection .

Anna Fischer was the daughter of another German immigrant family, Paul and Wiebke Fischer. The Fischers may have come from Kellinghausen in the Schleswig-Holstein or East Friesland area of Germany .

Paul Fischer, born on 14th April 1828, married Wiebke Schluter (or Schlukar), born on 21st January 1830, in 1856. Anna may have been born at Zimpkedorf, Hanover on 15th April 1858.
The family came to Queensland on the "San Francisco" which left Hamburg on 9th August 1863 and reached Rockhampton on 28th November 1863. The family movements are not known prior to their settling in the Fassifern area.

Passenger lists record the family as:
Paul Fischer, aged 35 years
Wiebke Fischer, aged 33 years
Margareta Fischer, aged 9 years
Marcius Fischer, aged 7 years
Anna Fischer, aged 5 years
Wilhelm Fischer, aged 2 years.

On 17th April 1879, Anna applied in her own right for 80 acres of land in the same parish as Hermann Dickfos's land grant.

Hermann Dickfos married Anna Fischer. The date of the marriage is uncertain but two dates have been given - 8th May 1879 and 9th April 1880 .

Because of their individual investments in property, Hermann and his wife now owned over 400 acres of land along the old Harrisville-Rosevale Road. Like many of the German settlers, Herman and Anna had a large family of ten children - Wilhelmine, Annie, Henry, Ellen, John, Frank, Carl/Charles, Wilhelmina, Margaret and Theresa .

After farming for many years Herman and Anna moved to Wynnum and then finally back to the Fassifern Valley at Aratula. Herman died on 12th June 1928 and Anna on 11th November 1946.

The descendant line of interest is that of Margaret Anne who was born on 6th October 1897.


The Schossow Family:

The earliest known member of the family is Friedrich Schossow who was born in 1745 at Glasow, and died in 1833. When Friedrich married, and to whom, is not known although it is known that he was married twice. There were two sons from the first marriage, Michael, born in 1786 and Christian, who was born in 1789.

Three more sons were forthcoming from his second marriage. Friedrich was born in 1798, Johann in 1801, and Michael in 1803. It is known that all of his children were born in Glasow, so it would appear that he lived there for his entire life, and most probably married Glasow women.

Currently, very little is known of the lives of the Schossows beside the fact that they were farmers or tradesmen, and more likely saddlers and cobblers. The descendant line of interest is that of Johann who married Christine Sarow.

Three children were born of Johann and Christine, Carl Friedrich Wilhelm on 30th November 1829, Christine in 1832, and Friederike on 13th November 1834. Carl's death certificate shows that he was born in Streithoff, Pommern, Germany

Carl married Louise Wilhelmine Durow who was born on 19th of February 1834. The date of the marriage is not known. However, on Carl's death certificate, he is shown as being married at Bagemuhl, Brandenburg Germany at the age of thirty years which would make the year either 1859 or 1860. Carl was described as a trade labourer. Quite possibly, Louise was also born in Streithoff because there is a note that Durow is a well known name in that village.

Their last place of residence in Germany was Bagemuhl in the Uckermark. This may also have been their place of marriage. Carl and Louise left Hamburg on the "Helene" on 28th March 1865, arriving in Moreton Bay on the 27th July 1865.

Passenger lists record them as:
Carl Schossow, aged 35 years
Louise Schossow, aged 31 years.


Very recent information has revealed that only one Schossow family emigrated to Australia. Several family members emigrated to the United States where there is apparently a larger descendency. Of interest is a town in Germany called Schossow.


Carl and Louise moved to Engelsberg (Kalbar) in the Fassifern Valley area. It is likely that they worked as labourers on the many farms owned by German families before securing their own land. Carl was naturalised at Ipswich on 28th January 1869. Three children were born. Albert in 1869, August Christian Friedrich on 24th November 1874, and Anna whose birthdate is not known. However, Anna's marriage certificate shows that she was twenty one years old in April 1895 which indicates that she was born in 1873, or 1874.


Albert married Theresa Fischer, sister of Anna Fischer, on the 9th July 1891 at Mt. Walker. August married Johanna Pfeffer on the 10th October 1895 and Anna married Ludwig Wilhelm Radunz on the 27th April 1895.

Albert and Theresa produced four sons and a daughter. Frederick was born on 30th September 1893, Charles unknown, William on the 4th February 1899, Albert unknown, and Louise May unknown.

Many of the Schossow children born in Australia were female. As a consequence of convention, having adopted their husband's surname, the family name of Schossow is not as profuse as would normally be expected.

The descendant line of interest is Frederick Schossow, Ethel's father.


"My Father's Early Life" - as told by Ethel.

Little is known of Fred's very early life. Obviously, there were no written or photographic details as there was only rudimentary schooling and cameras were the preserve of photographers. Ethel recalls details only as told by her father.

She remembers her father saying that his family was very poor and everyone was made to work very hard. Being the eldest son, Fred was seventeen when he was sent off to work on a farm to help keep the family. The year would have been 1910. The work entailed ploughing during the day using three draught horses and milking cows every morning and night. He used a hand separator to separate the cream and the milk and he fed the separated milk to the calves and pigs.

A slab hut was all he had for his quarters which he used for eating and sleeping. He had to supply his own food. Ethel remembers her father telling her of the old billy goat coming to the door at night, rubbing his head on the door of the hut and frightening the hell out of him on the first few occasions. By the time he managed to light the kerosene lantern and see what it was, the old goat had wandered away.

Ethel is not sure of the amount of money that Fred received but it may have been 7/6d (seven shillings and sixpence) or 10/- (ten shillings) per week. He had to send this home to his family.

This went on for over six months when an old farmer told him that he should keep the money because one day he would need it for his own farm, or when he wanted to get married.

Fred worked several share farms before he married

There is no record of internment during World War I. As they were primary producers and first generation Australians it is quite possible that they were not considered any threat.


Frederick and Margaret Schossow:

Frederick Schossow married Margaret Anne Dickfos on 13th December 1916.

They were first cousins. Their respective mothers were sisters, Anna and Theresa Fischer. This was apparently not uncommon in Germany.

The Schossows were share farmers around Silverdale on the Cunningham Highway from their marriage until 1927. Two daughters were produced, Dorothy Pearl in June 1917 and Ethel Margaret who was born at Harrisville on 22nd November 1922.

Ethel Margaret Herron:

Ethel does not remember her very early life. The farming was not altogether successful and her parents gave farming away to try something new. Some partial records from 1925 show that net income from the farm was about £16 per month.

In 1927, the family moved to Sunnybank where her father contracted to cart gravel for the Main Roads. He had bought a solid tyred "Republic" tip truck. These were the days of "..no machinery - everything had to be done by hand." The work involved using a wooden scoop drawn by two horses to drag the gravel into heaps where it was shovelled onto the truck by a team of men. The gravel was then dropped in heaps along the road being built where it was then spread by another team of men.

The family lived in tents for six to eight weeks at a time before moving onto a new area. In 1928, the work at Sunnybank ran out and the family then moved to Warril View, about 15 miles west of Ipswich and near to Harrisville where Ethel was born. They had to move to where the work was available. Her father worked on many roads in the Fassifern area including the original road up to Cunningham's Gap.

Ethel remembers Warril View very well as it was where she first went to school. To get to school from their camp, Ethel and her older sister had to walk across a bridge on their five mile walk. Coming home on her first day there was a group of kids throwing rocks off the bridge. Ethel joined in and somehow she happened to hit a boy on the leg. Next day the boy's mother sent a note to school and Ethel was called into the headmaster and received two "cuts". It may have to rank as a world record by receiving the cuts on your second day at school. Ethel also remembers getting the cane for writing with her left hand.

Her father bought a new Chevrolet truck in 1928. She remembers being told that he paid £286 for the chassis. He had to supply and fit the tray himself.

Ethel remembers moving camp quite often and sometimes going to different schools. Every move did not necessarily mean moving
to a new school, just a longer walk to school. Sometimes the move was substantial such as moving to Haigslea, Rosevale,
back to Warril View, and then to Boonah where another vivid incident in Ethel's childhood occurred.

Her family were living in a tent in the front yard of a house at Dugandan, about two miles south of Boonah. There was a very severe
storm and the creeks were running very high and rising. Her parents told Ethel to go to town with her sister to get the mail.
Ethel was seven and her sister was twelve. They had to cross a large creek which was already running a banker. They ran to
exhaustion as they were very scared because of the raging flood waters.

By 1930, the family had had enough of living in tents, constantly moving and generally not making any headway in their life.

Her mother's younger sister, Therese, had moved with her family to the Murgon area. In September 1930, the Schossow family followed and stayed for a while at Moffatdale.
Ethel was nearly eight years old when her parents bought their own farm at Tansey on 3rd November 1930.
This was a mixed dairy farm of approximately 100 acres on
Planter's Creek Road on which her parents paid a deposit and
then paid off the monthly mortgage. About half of the farmers
in the district were of German descent.

Tansey was a boom place in the 1930's.

Ethel remembers this period of her life very well. Her father was a very strict, honest and hard-working man and he expected that his daughters should be the same. Ethel well remembers that she was required to do a "man's work" on the farm.

Her day's routine comprised milking cows, going to school, coming home, feeding the animals, milking the cows and then doing her home work. All the milking was done by hand as her father reckoned that milking machines "wrecked the cows". The cream was separated, and collected three times a week by a carrier who also delivered bread and meat from the town of Goomeri.

The Tansey school was about one and a half miles from the farm but Ethel mostly only attended two or three days a week, probably averaging only one full week in a month. The farm had rich alluvial soil on the creek flats and produced very high quality lucerne hay. Some floods coming down Planter's Creek deposited huge trees and a lot of new soil in the lower paddocks.

When mowing and baling was to be done, Ethel and her sister were required to stay home and help. This task was carried out using horse drawn equipment. Her father didn't believe in tractors because they "damaged the soil". The girl's tasks also included cutting chaff. Her parents made quite a deal of money from the lucerne hay and chaff. Their father was of the opinion that girls ".. didn't need an education because they only went off and got married."

Bull calves were not considered as being of any use on a dairy farm and therefore were disposed of in the back paddock. This was part of Ethel's chores on the farm. After killing the animal, she then skinned it as she got 2/- (two shillings) for the skin which she could use to go to a dance. Her parents only gave her pocket money on very infrequent occasions. She was never paid for her work on the farm right up until the time she left in 1946. Ethel says that her older sister, Dorothy, was smart enough to go off and get married in 1938. Dorothy was five years older than Ethel.

Entertainment usually involved her family visiting neighbours on Saturday night to play cards. She said that it wasn't until about 1933 that the family went to the Goomeri show. She and her sister were given 2/- each to last for the whole show. By 1939-1940, Ethel would go to dances in Tansey. She usually rode a horse unless some neighbours were going and she could get a ride with them. The travelling picture show would visit the town once a month. The films were shown on "Kelly's" garage door in town. Jack Kelly owned a mixed business and sold everything from food, radios, hardware and petrol.

The property next door to their farm was owned by a family named Mackaway. In the late 1930's, it was being share-farmed by the Herron family, of which the eldest son was a big strong lad called Dale. He took an interest in the young long-haired girl whom he noticed at times walking along the road. At times he also did an occasional job for Ethel's father, on one occasion helping him to dig a well. Dale says that old Fred made him work very hard, but then Fred worked twice as hard as he did.

Life on the farm remained pretty much the same for Ethel. During Word War II primary producers were considered essential workers. Even though a great many of the farmers were German, Ethel says that only a very few troublemakers were interned. During the war years lots of goods and especially food were hard to come by. She said that the butter factories turned to producing tinned cheese for the army. She always remembers the great many planes that were "always heading north.". It must be presumed that Tansey was on a northern flight path because she cannot recall any planes heading south. Some military was also encamped in the area.

Leaving The Farm:

By the end of the war, Ethel was nearly twenty three years old. She had asked her parents several times about getting paid but each time her father responded with "wait till we sell the farm." She had no money of her own and had to rely on her parents for everything.

In 1946, the family came to Redcliffe on a holiday. At the end of the holiday, Ethel refused to go home because she never got paid. Her father begged her to return and said that she only had to "wait until we sell the farm." Ethel replied, ".. that you've been selling that farm for years."

Ethel stayed in Brisbane at Salisbury, taking a tram to work as an assistant nurse at Fellnow Private Hospital at Annerley. She left two weeks later after having a dispute with the head nurse and took a job ironing at a laundry.

Eventually, her parents did sell the farm and moved to Redcliffe in 1948. They still owned the 1927 Chevrolet truck from the days on the main roads. Her father started doing carpentry and building repair work and built a house on the corner of Oxley Avenue and Baldwin Street. The basis of the house was an old cottage from the farm which was used for families who occasionally work on the farm. Ethel says that a great deal of iron bark from the "top paddock" was also felled, sawn and used in the building of the Redcliffe house.


Ethel and Dale:

While she was working in Brisbane Ethel continued to see Dale who was training as an upholsterer in the post-war Reconstruction scheme.
The first intake for his course only contained three students and as the trainer was able to give full time attention to each student the
course was completed in four months.

Dale and Ethel were married on 3rd August 1946 at Moorooka. They lived at his mother's place at Salisbury. Dale worked at
Advantage Upholsterers in 1946-47 before moving to foreman at Roy Trenier Upholstery at Salisbury where he was paid £9 per week.

Their first son, Ronald James, was born on 24th January 1947. Then followed John Dale on 17th July 1948 and Alan Frederick
on 28th August 1949. They continued to live at Dale's mother's place at Salisbury.

Dale always held hopes to be his own boss and after virtually running the factory at Treniers for two years decide to make the move
in March 1949. He first tried to find a place at Kingaroy but no factory space was available.
Pialba:

In spite of a very successful business, Dale s health was being affected by his war injuries and by the dry climate in the Darling Downs.
Regrettably, they had to leave Dalby and decided to make their move to Hervey Bay in October 1956.
Dale opened another upholstery shop in the suburb of Pialba. However due to the fact that Hervey Bay was such a
slow growing area, the business did not succeed.

Boondall:

After only 6 months in Hervey Bay the Herron family moved again, this time back to Brisbane. After years of being an upholster or Dale decided on a different career path. Dale and Ethel bought a six acre small crops farm on the corner of Roscommon and Muller Roads in the suburb of Boondall. Ethel and Dale cut and packed lettuces at 2 am so they would be fresh for the markets.

Dale had to manage the farm almost single handedly since his sons were too young and had to attend school. Ethel tried to help out wherever she could on the farm but was kept very busy looking after their young family which now comprised another daughter, Hazel Joy, who was born just prior to moving to the farm. They realised that with a very young family, running the farm would always be difficult.

Nundah:

In 1958 Ethel and Dale sold the farm at Boondall and moved back to her parent s home at Redcliffe. Dale used to catch the bus into Brisbane where worked for the Butler Bros. hardware store. To reduce Dale s travelling time, the family moved to Nundah in mid 1958.

A few weeks later, Dale decided that fruit and vegetables were his forte and began work as a buyer for a fruit and vegetable store in Sandgate.

It was while living at Nundah that Ethel s father died. The date was 6th October 1958.

As her family was starting to get older, Ethel felt that she could contribute more to the family s income and so she and Dale decided that they should that they have their own small business.

Bald Hills:

Ethel and her family only stayed six months at Nundah, in which time they totally renovated their house. In early 1959, they purchased the major grocery store on Gympie Road at Bald Hills. With it came another shift, one of twenty that Ethel was to make in her life.

This proved to be one of the most successful ventures undertaken by Ethel and Dale. Ethel s first daughter, Maree, had started school, leaving Ethel free to assist in the business. Unfortunately the long hours took a toll on the family and Ethel and Dale were forced to sell the business. One piece of good fortune came their way while at Bald Hills. Ethel won a one-third share in first prize in the Golden Casket.

Back to Boondall:

For a short time the Herron family moved back to Ethel s parent s home at Redcliffe before buying another farm at Boondall in 1960. This farm was only 800 metres from their previous farm. At first the owner wanted too much for the farm but owing to a stroke of luck on the Herron s part, the owner became ill and was desperate to sell. As Ethel and Dale were the only people interested, the owner approached them with a more realistic price.

Ethel and Dale were now more knowledgable in the ways of running a business and had learned a lot after their first attempt at farming a few years earlier. This time the farm was more productive as her sons were old enough to help out. As her sons were nearing high school age, Ethel impressed upon Dale that they must remain put so that their sons could receive an uninterrupted high school education.

It was hard work for everyone on the farm. Wednesdays and Sundays were preparation days for the markets. Ethel recalls sitting for hours picking beans and peas on Sundays and then packing tomatoes, washing and packing lettuce, beetroot and carrots.

Ethel says that all of the hard work paid off. In time, this brought good rewards, such as holidays to Hervey Bay and even a boat. The whole family indulged quite heavily in their passion for fishing.

Ethel s mother lived with them at Boondall for a while until she had a house built at Shorncliffe where, incidentally, her sister Therese and her husband were living.

In 1964, while still on the farm at Boondall, Ethel and Dale bought a milk run as a second business venture. Dale operated the business with their eldest son Ron. However the milk run only lasted for about 12 months by which time Ron had decided to go train as a wool classer. Since his other two sons were still studying in high school, Dale had to give the milk run away.

In 1963, the fruit and vegetable markets moved from central Brisbane to Rocklea. The extra travelling made it more difficult to continue as a supplier to the markets. Ethel and Dale decided to build up the retail sale of fresh produce from the farm. Not only was this successful but it required Dale to travel to the Rocklea markets to buy fruit to supplement the vegetable sales.

The previous owner of the farm was a solicitor and he dabbled in growing flowers. The plants were generally neglected as the Herron s concentrated on vegetables. With the retail sales growing, some customers asked about the flowers. Consequently, they received a little more attention.

Being of a competitive nature, Ethel entered some of these flowers into a flower show at Sandgate. When she went to collect them on the Saturday afternoon, she also collected a swag of awards. Ethel put the idea to Dale that instead of paddocks full of vegetables and other crops, why not have paddocks full of flowers. They required less intensive work. Somewhat of a change in direction occurred as the flowers were sold commercially which proved to be a very financially rewarding decision for the couple.

As the years went by the family began to grow smaller as the boys left to pursue their own lives. Ron was married and had settled at Bracken Ridge, John was working in Canberra and Alan had taken to the sheet metal trade and was living at Redcliffe. Meanwhile Ethel, Dale and their two daughters continued to prosper with a flower farm at Boondall.

Ethel and Dale sold their farm for a housing development and moved into semi-retirement at Redcliffe. Twelve years was the longest period that they had ever stayed in one place.

Because of their upbringing where they always valued what they had, Ethel and Dale never deliberately threw anything away. Even today, they are still the original conservationists and re-cyclers. It was in this vein that they decided to sell everything that was lying around the old farm. Much of it was on the farm when the Herron s moved in. Being the start of the "collectors era", people paid high prices for this "junk" which astonished both Ethel and Dale.

Clontarf:

In March 1971, Ethel and Dale moved into their first new home in Lucinda Street Contarf. Ethel s mother also moved into a new home that she had built next door.

Their interest in flowers and plants continued to play a strong part in their lives of Ethel and Dale. Both Ethel and Dale became very active and respected members of the Redcliffe Show Society. They also won numerous awards for both cactii, flowers and vegetables that they continued to grow at their new home.

In time, Ethel and Dale became chief stewards and judges for the show. They also became highly regarded as judges at shows all over south east Queensland.

In 1987, Ethel s mother died after suffering a fall and breaking her hip.

In July 1988, Ethel and Dale decided to move from their highset house after sixteen years. The move was a short one of two kilometres to a low set house in Julia Street Clontarf. They continue their interest in flowers and plants, remaining as judges at the shows and in garden competitions and selling their plants at weekend markets.












This biography of Ethel Herron was written in 1995 by her grandson Gregory. It tells in her own words her life as a young girl growing up in the 1920's in Queensland Greg was 16 at the time!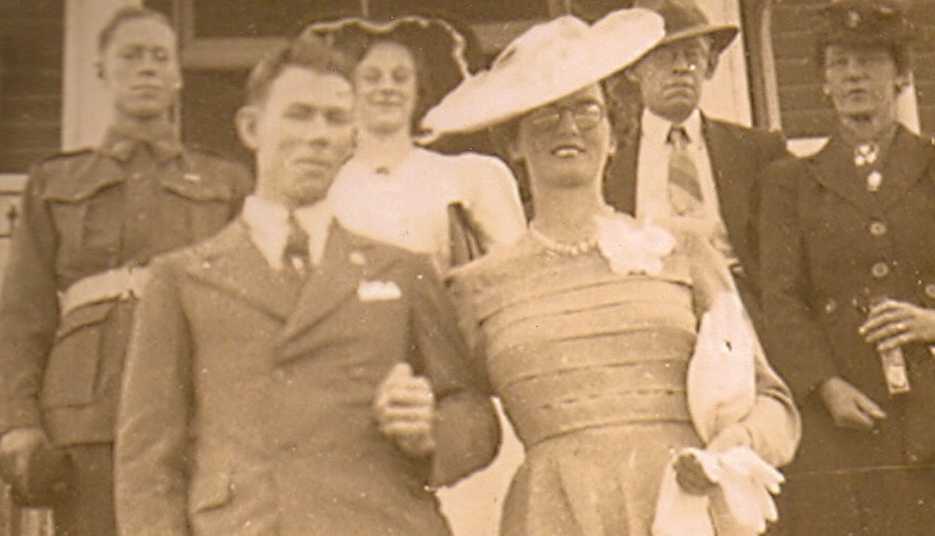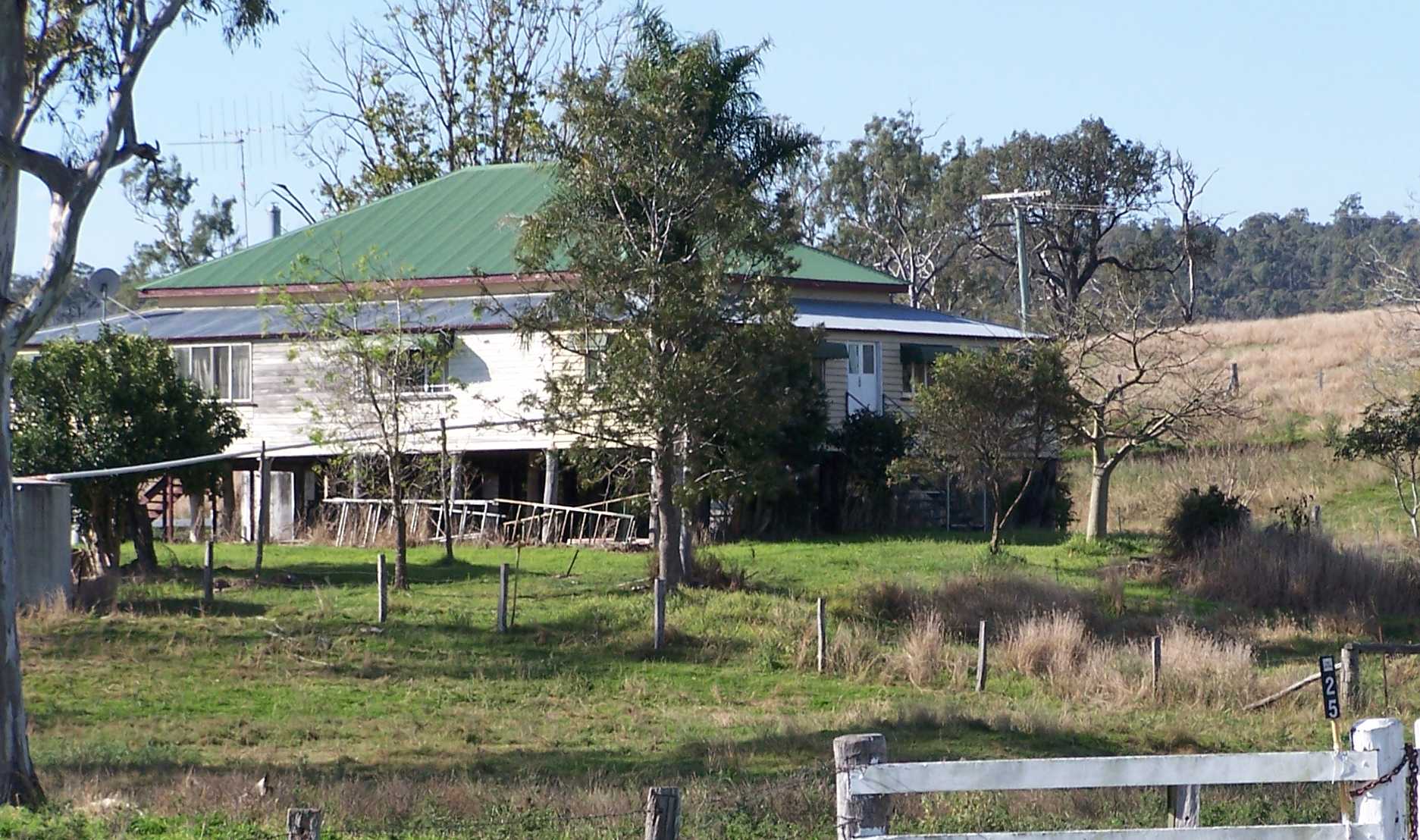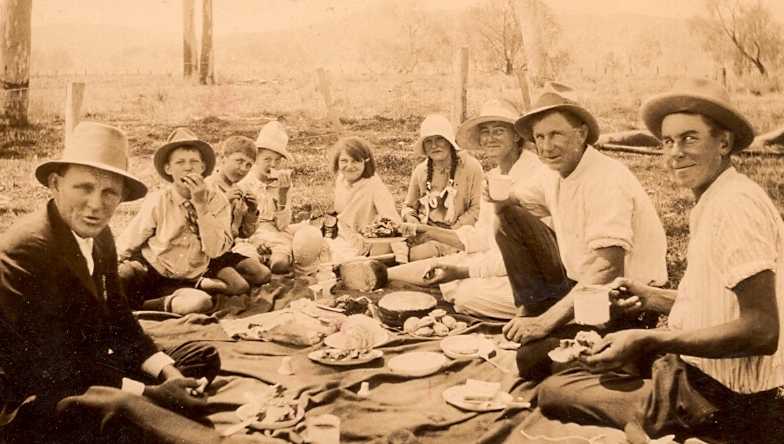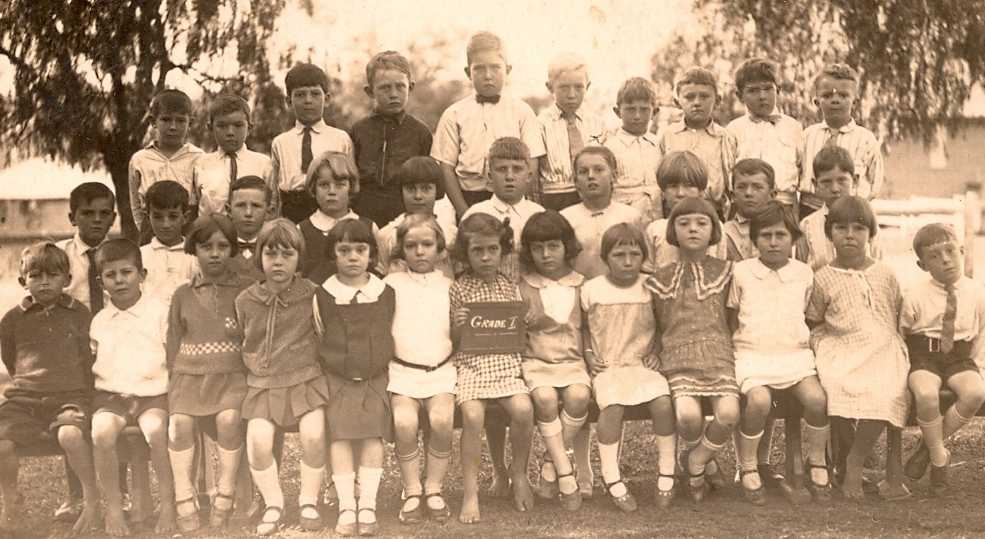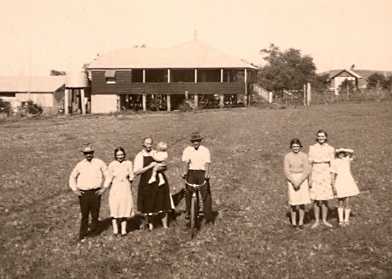 Boonah School 1930 4th from front rhs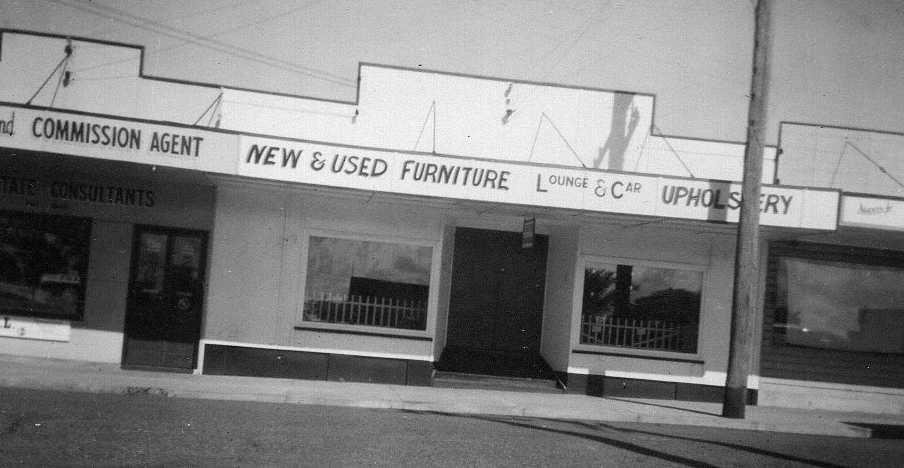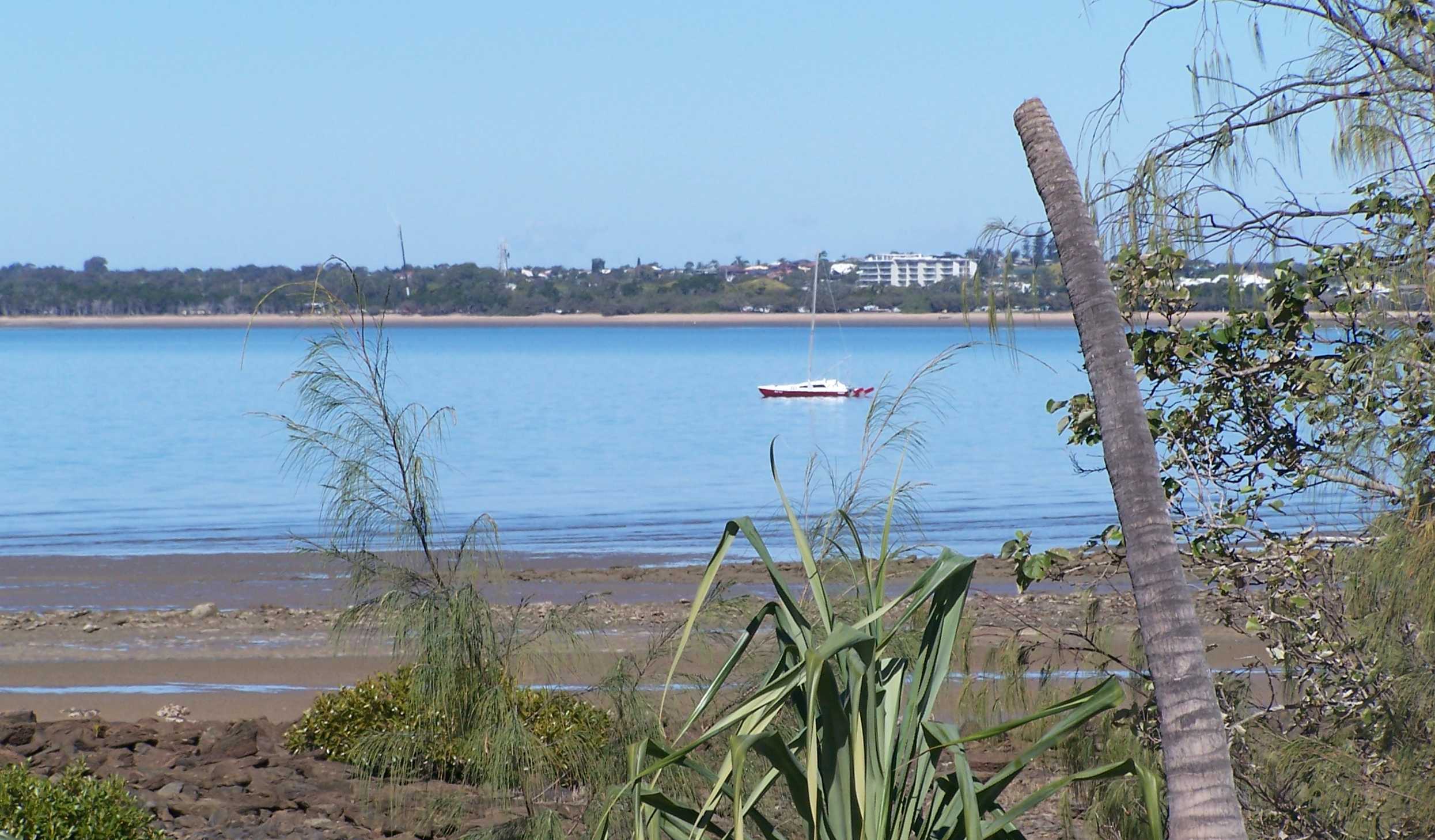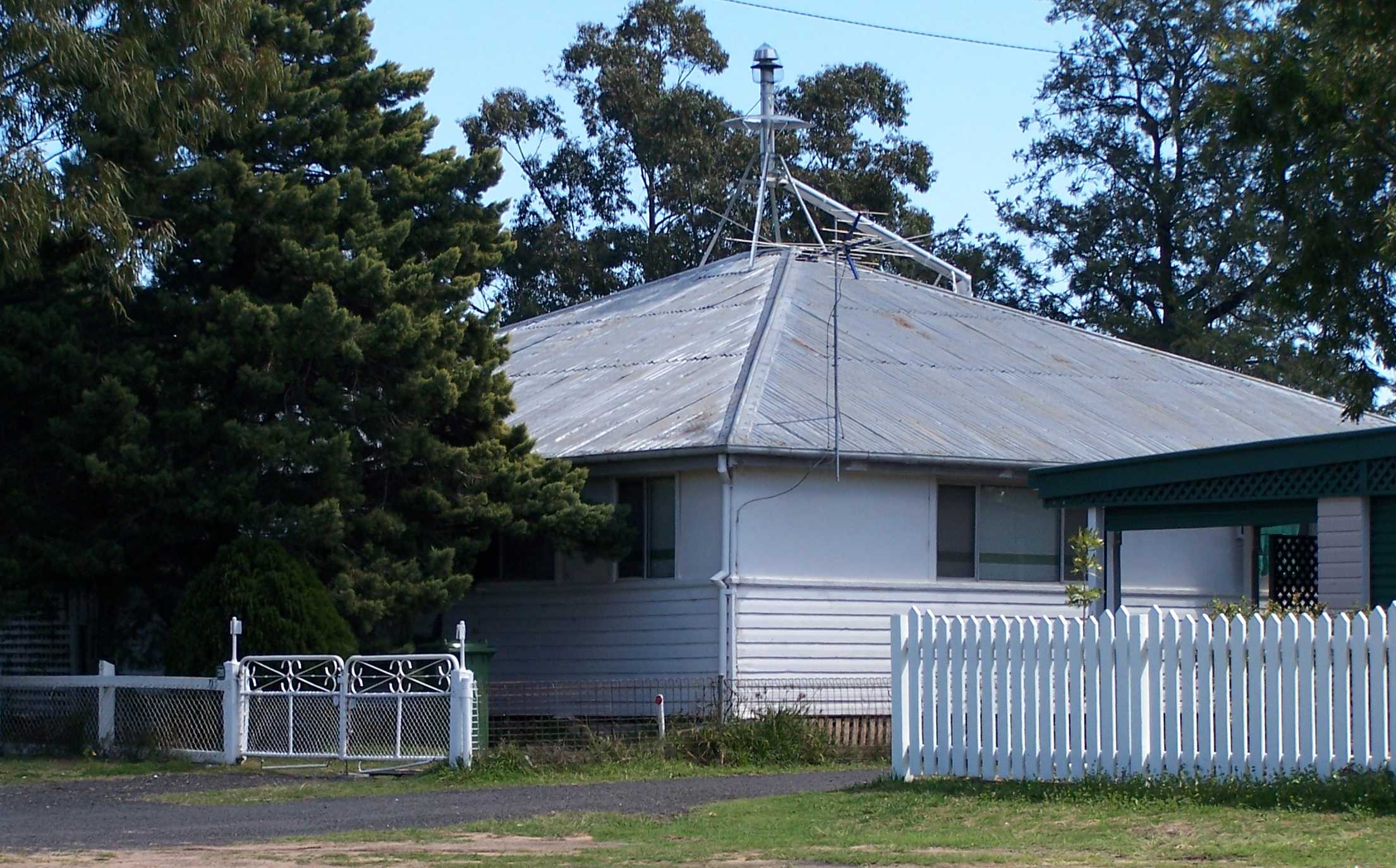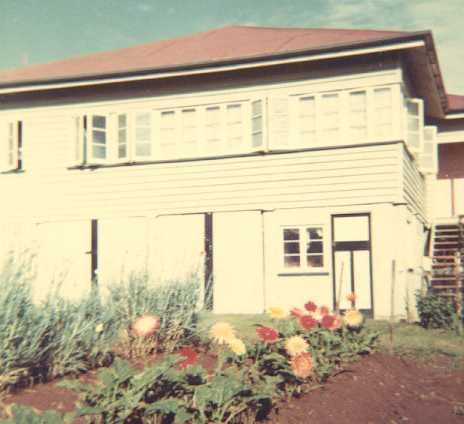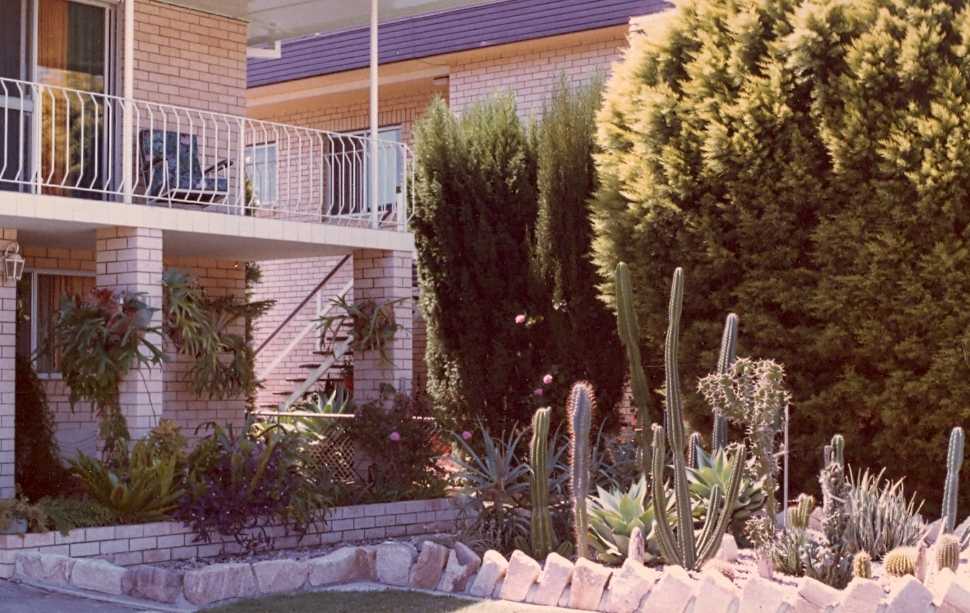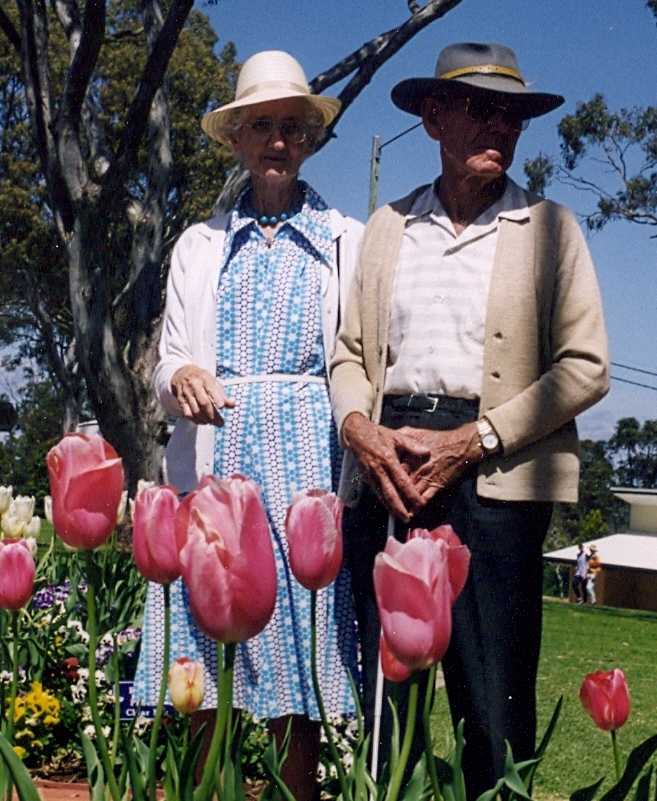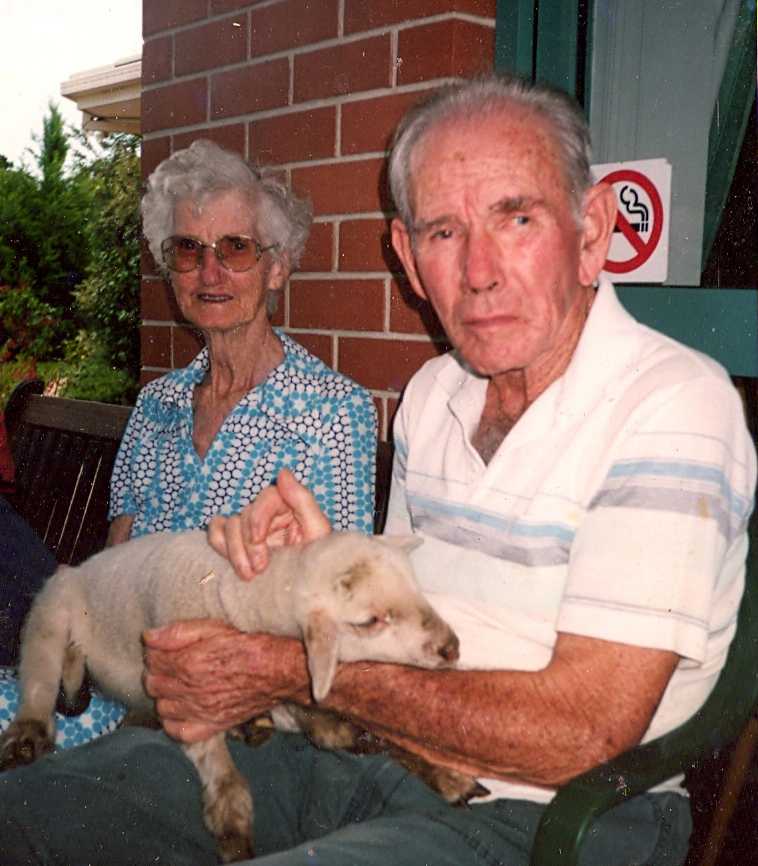 They shared a love of animals and flowers. At the Toowoomba Carnival of Flowers and the Nursing Home
Hervey Bay, the shop is still there!
Dale's shop in Main Street 1956